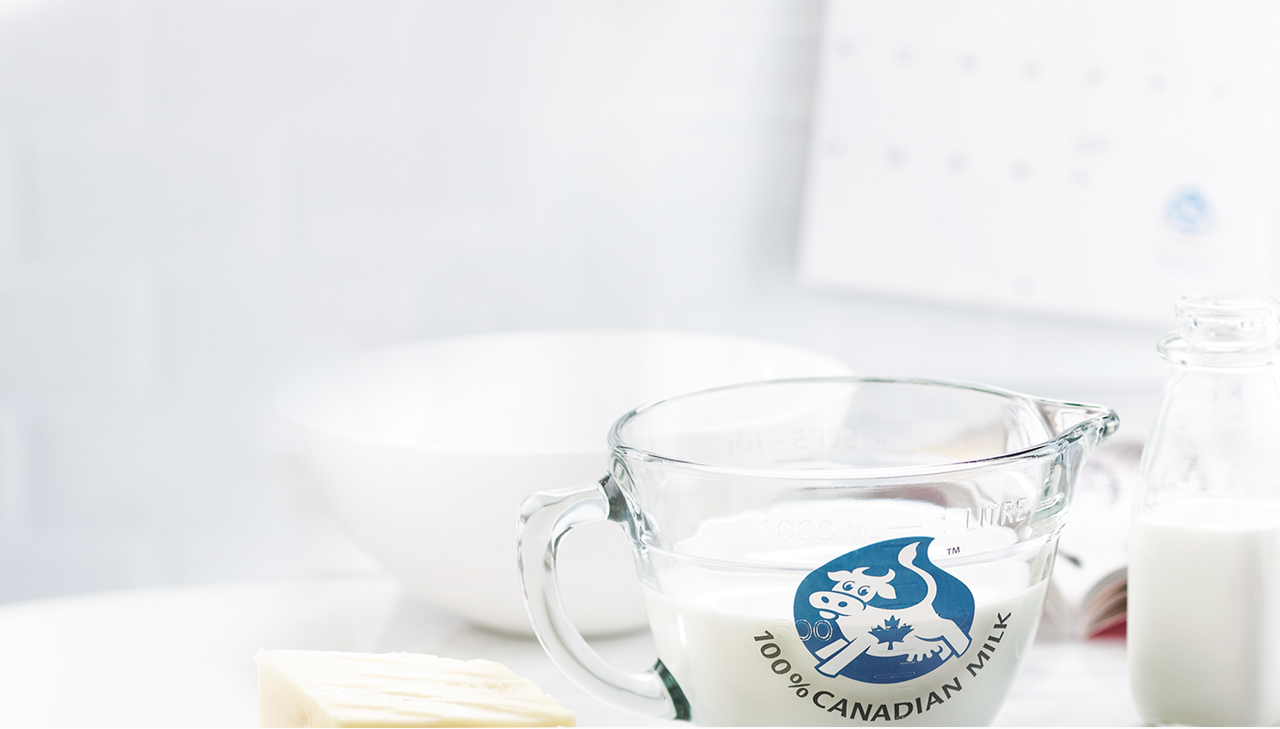 The MARKETING department maximizes efforts to project a positive image of Canadian dairy farmers and the dairy products they craft, while optimizing the dairy farmers' revenues. To do this, the Marketing department makes use of both proven and innovative ways to reach the audiences which are most receptive and motivated to hear our message.
All You Need Is Cheese
From July 2015 to May 2016, DFC used a strategic mix of mass media, educational tools, retail promotions, food and lifestyle events, sponsorships, fairs and exhibition shows, and online campaigns to increase cheese consumption among Canadians. Here are some highlights from the marketing activities carried out over the last year.
National advertising campaign
In 2015, DFC launched an advertising campaign under the theme "Canadian Cheese: A Truly Canadian Pleasure". From August to December 2015, two new 30-second television spots aired on conventional and specialty networks across Canada. The "Paris" ad was back on television for the first half of 2016, along with online videos to support the campaign. Print ads were published in several popular food and lifestyle magazines in 2015, and this activity will continue in 2016. In the fall of 2015, out-of-home billboards with region-specific messages were displayed in British Columbia, Alberta, Ontario and Atlantic Canada.
An online campaign also took place and included online banners, social media activities and a partnership with two popular food bloggers. In addition, DFC updated the cheese repertoire on allyouneedischeese.ca, which now boasts information on nearly 500 Canadian cheeses.
Fairs, exhibits and sponsorships
Between July 2015 and May 2016, DFC sponsored a total of 19 food-oriented events (e.g., the Niagara New Vintage Festival, The Big Taste in Calgary) and took part in 12 fairs and exhibits (e.g., The Outdoor Adventure Show in Vancouver, the Fall Ideal Home Show in Halifax) across Canada (with the exception of Quebec). These events provided an ideal environment to educate consumers about the quality, variety and goodness of Canadian cheese. We also visited three shows in Ontario with the Canadian Cheese Counter, which allows us to give cooking demonstrations and cheese seminars in any venue.
Retail promotions
In the fall and winter of 2015, four retail promotions took place in selected stores and regions (Loblaws in Ontario, Longo's in Ontario and Sobeys out West, in Ontario and Atlantic Canada). A national (with the exception of Quebec) holiday promotion also took place in December. Activities included in-store media, advertising in store flyers, sampling, recipe booklets and advertising.
all you need is cheese magazine
From August 2015 to March 2016, DFC published three editions of the all you need is cheese magazine. About 1.2 million copies of each issue were distributed in Western Canada, Ontario and the Maritimes. The winter issue focused on the 2015 CCGP winners and the spring 2016 issue featured a completely revamped design as well as new sections.
Recharge with milk
Since it was launched in 2008, the Recharge with Milk (RwM) campaign has been instrumental in developing chocolate milk's market share in the post-workout recovery beverage category in Ontario and Atlantic Canada. The 2015 campaign objective was to help increase consumption by reinforcing the benefits of chocolate milk as a post-workout recovery beverage and cementing it into an athlete's ritual.
The campaign used a strategic mix of television and online advertising, social media activities, sports event sponsorships and promotional contests in Mac's and Circle K stores. These activities gave us the opportunity to communicate with the target audience—physically active Canadians—when they were most receptive (e.g., at sports events and on social media).
The rechargewithmilk.ca website was also regularly updated with nutrition and workout-related blog articles to continually reinforce our messages and educate consumers about the benefits of chocolate milk.
Sponsorships— a great way to reach consumers
Event sponsorship is an important part of the RwM campaign, as it allows us to increase awareness of the brand, meet with active consumers and remind them to keep chocolate milk top-of-mind when reaching for a post-workout recovery beverage.
In 2015, RwM sponsored 44 events in Ontario and Atlantic Canada (triathlons, marathons, basketball, rugby, mountain biking), which represent 47 days of privileged interaction with our target market. These sponsorships allowed us to interact with over 58,000 athletes, to whom approximately 53,000 samples of chocolate milk were distributed.
The 2015 Recharge Rewards contest, which was promoted through an online campaign, social media engagement and event sponsorships, delivered on the primary objective of increasing repeat entries. This means that it was successful in encouraging consumers to make chocolate milk a more consistent part of their workout routine.
The 2016 campaign began in the spring. It conveys the new "Beat every sunrise" tagline, with the idea of challenging oneself every day with the support of chocolate milk. Activities include out-of-home advertising, social media, an in-store promotion, and event sponsorship.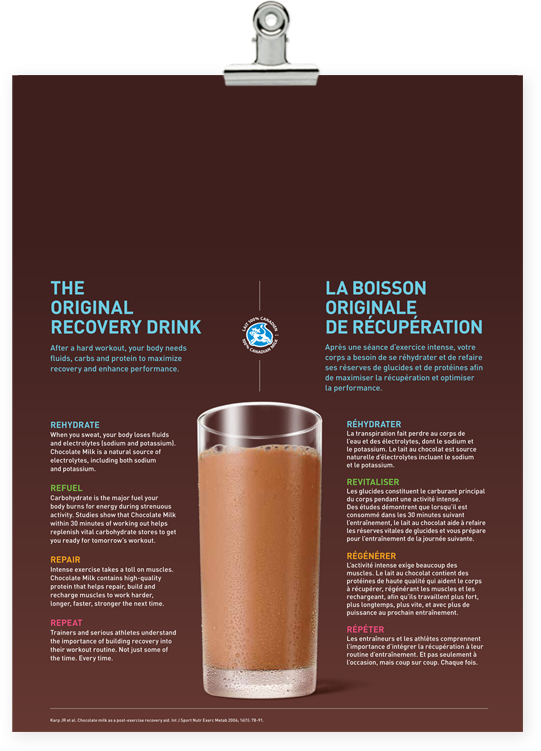 Milk Calendar
DFC's ever-popular Milk Calendar was launched in November 2015, with the bulk of the 2.5 million copies distributed in Ontario (80%) and the Maritimes (14%) via newspaper and magazine insertions. In addition, events were held in Toronto and Halifax to stimulate interest and give away additional copies. The western provincial boards also ordered about 150,000 copies for distribution in their regions.
The Milk Calendar helps increase usage of milk in the kitchen by providing recipes that use at least 1 cup of milk and significant amounts of other dairy products (cheese, cream, butter, and yogurt). For the 39th edition, DFC created a synergy between the Milk Every Moment and All You Need Is Cheese brands by integrating themes common to these two campaigns, that is pairing milk and cheese with other foods and creating special moments with family and friends.
The Calendar, which is mainly targeted at women with children under 18 years old, features 19 new delicious and nutritious recipes made with milk products. Consumers who did not receive their copy via newspapers or online ordering can download the Calendar at milkcalendar.ca, or consult the recipes online. The website also contains 13 mouth-watering recipe videos featuring Chef Caroline McCann.
The Calendar's promotional campaign, which ran in November 2015, included ads online and in social media, print ads (in newspapers and in Today's Parent magazine) and video ads in selected Walmart superstores. It also included a public relations campaign with food writer and recipe developer Heather Trim and Chef Renée Lavallée. Overall, the public relations campaign generated 16.54 million media impressions and a total of 87 media stories. In addition, the 13 monthly recipe videos will be promoted on various websites via an online campaign throughout the year.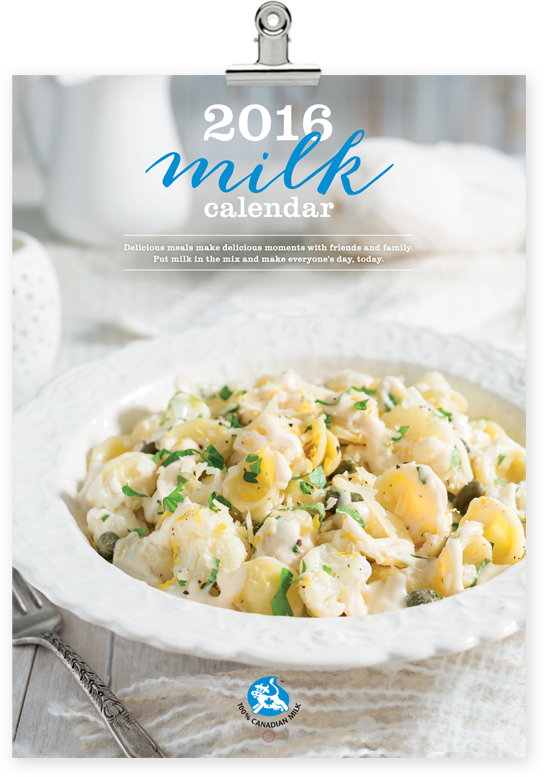 The multicultural campaign
In 2015, DFC's multicultural campaign aimed once again to encourage Chinese and South Asian Canadians to increase their consumption of dairy products. Promotional activities were conducted to educate these communities on the health benefits of Canadian dairy products and on ways to integrate them into their traditional cuisine. Here is an overview of activities undertaken last year.
Reaching out to Chinese Canadians
In the spring and fall of 2015, DFC carried out the When Chinese Cuisine Meets Dairy campaign in Toronto, Vancouver, Calgary and Edmonton. The campaign included the following:
A bilingual website (English and Chinese), hellodairy.ca, was launched in May 2015 featuring delicious recipes and nutritional information. Over 21,000 visitors viewed nearly 70,000 pages in the English section—of which over 80% were recipes—and nearly 5,000 visitors viewed over 27,700 pages in the Chinese section;
Television spots were aired in Cantonese and Mandarin on specialty channels and newspaper ads were published in Chinese-language newspapers (Toronto and Vancouver) to encourage consumers to visit hellodairy.ca.
A retail promotion also took place in selected supermarkets in Toronto and Vancouver. It featured eye-catching materials and a booklet with recipes developed by well-known Chinese-Canadian Chef Stephanie Yuen. The booklet was distributed during in-store recipe demonstrations.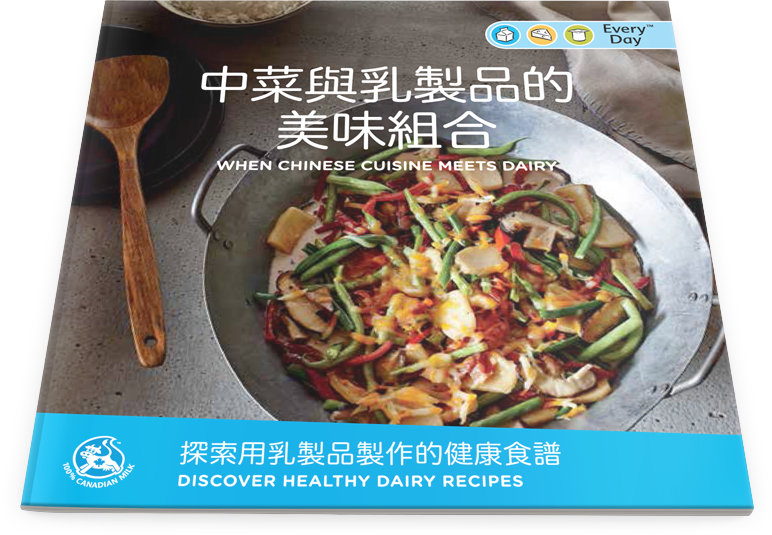 Reaching out to South Asian Canadians
In November 2015, DFC launched the "Canadian Cheese, A Fresh Take on Tradition" campaign around the time of Diwali (Festival of Lights), a major Indian cultural festival. It's a prime period for family get-togethers and meal preparation.
The main focus of the campaign, which took place in the Greater Toronto Area, was a retail promotion, supported by a recipe booklet and a collection of delicious South Asia-inspired recipes on allyouneedischeese.ca. The website address was featured on all promotional materials.
The booklet contained six new recipes developed by Chef Bal Arneson, a food authority in the South Asian community. It was handed out during in-store recipe demonstrations in 26 supermarkets and through local newspapers. To encourage consumers to visit allyouneedischeese.ca for recipes, the campaign included out-of-home posters located near participating stores.
CANADIAN CHEESE ROLLING FESTIVAL
The Canadian Cheese Rolling Festival is one of Canada's most fun and exciting family events. Hosted by DFC, the Festival rolled back into Whistler, British Columbia in August 2015. The event featured cheese rolling races, costume contests, cheese tastings, cooking seminars, a Canadian cheese market, and other fun activities for the whole family.
The highlight of the event was the cheese rolling races, during which an 11-pound wheel of Canadian cheese, produced by British Columbian cheesemaker Natural Pastures, was released and rolled down the slopes of Blackcomb Mountain for enthusiastic and ambitious cheese lovers to chase—141 of them to be exact. The first male and female contestants who made it down the hill in the final heats won one of the giant, coveted wheels of Canadian cheese and a Whistler season's ski pass for two. Over 10,000 cheese lovers attended the festival and took part in the activities.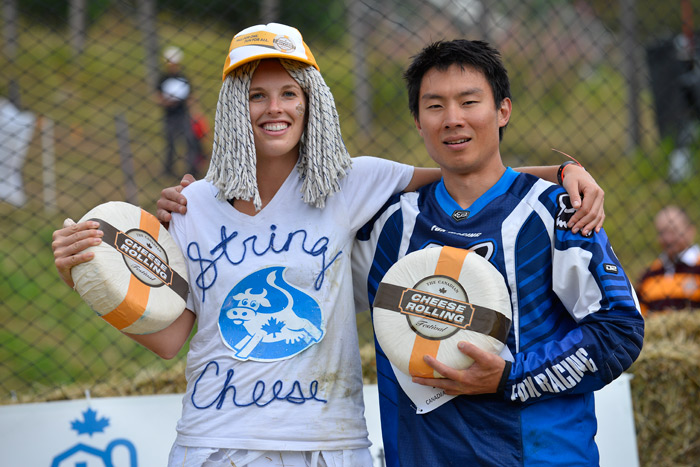 To generate excitement and event attendance, a retail and restaurant program, an extensive ad buy and a media relations campaign were implemented in British Columbia. The media relations campaign generated 30.2 million media impressions and a total of 192 media stories nationally, with a quality score of 114.58% and a cost per contact of $0.002.
The 2016 event, scheduled for August 20, is expected to be bigger and better than ever, with a new emcee, pre-event promotional activations and new activities—to name but a few.
GRATE CANADIAN CHEESE COOK OFF
The Grate Canadian Cheese Cook-Off is a biennial public and media relations event hosted by DFC in Toronto. At this event, four chefs/food experts from across the country are invited to compete for the title of the "gratest" Canadian cheese recipe. The 2016 event was held at the Canadian Cheese Counter at the Toronto Food + Drink Market in April.
For the second year, four chefs competed to create Canada's "gratest" Mac & Cheese and win the coveted grater trophy. The four fierce competitors included Andrew Farrell, Chef de Cuisine at 2 Doors Down Food + Wine in Halifax; Alexandra Feswick, Chef de Cuisine at the Drake Hotel in Toronto; Nicole Gomes, Executive Chef at Nicole Gourmet in Calgary; and Thompson Tran, Chef/Owner at The Wooden Boat in Port Moody. An esteemed judging panel, consisting of Afrim Pristine, owner of the Cheese Boutique in Toronto; Vanessa Simmons, Cheese Sommelier at Savvy Company; Georgs Kolesnikovs of cheeselover.ca; and Rita DeMontis, Sun Media food editor, had the "difficult" task of selecting the winner. Chef Feswick emerged victorious with her Nutty Home-Style Mac & Cheese.
Local, national and multicultural media and bloggers were invited to attend the event, meet the competitors and taste their recipes. After the competition, the four chefs conducted a media tour in their respective regions. The media relations campaign generated 41.08 million media impressions and a total of 300 media stories nationally, with a quality score of 96.44% and a cost per contact of $0.007.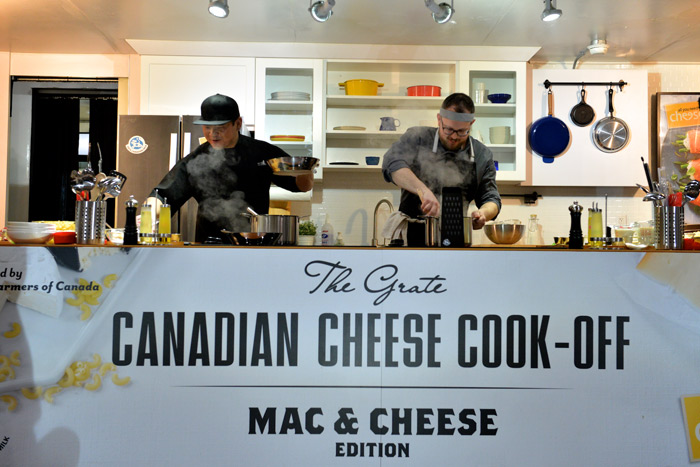 From farm to table
Since 2010, the From Farm to Table experience has striven to educate Canadian families on where and how the milk they consume is produced. Unfortunately, many Canadians are unaware that the milk they drink every day actually comes from cows raised on Canadian dairy farms.
The From Farm to Table experience tours throughout the summer at various family events in Ontario and the Maritimes—100 events in total in 2015. During this experience, families are invited to interact with and "milk" Mooonica, a mechanical cow, making the learning process fun. In addition, the From Farm to Table ambassadors interact with families, sharing information about Canadian dairy farming and cows. Children also receive stickers and colouring sheets.
In 2015, over 1 million Canadians witnessed the From Farm to Table experience, 470,000 interacted with the ambassadors and more than 213,000 "milked" Mooonica.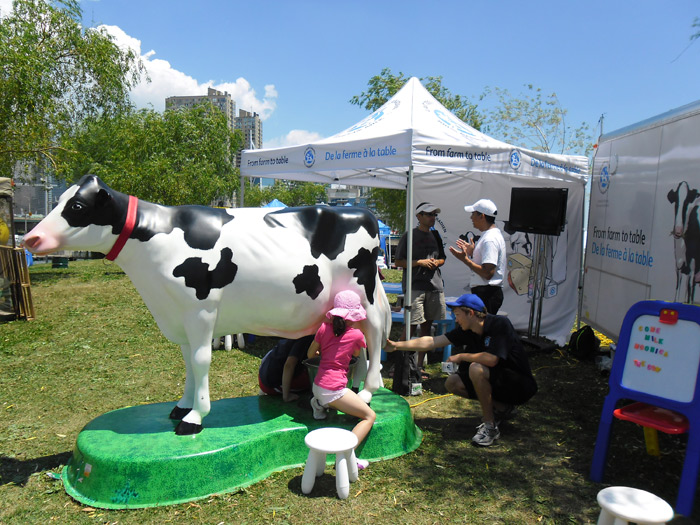 TIM HORTON'S PARTNERSHIP
Over the last few years, DFC has been committed to strengthening its relationships with many partners, including Loblaws, Sobeys and General Mills – to name but a few.
The second half of 2016 promises to be an exciting time as we work closely with Tim Horton's
to launch three private-label bottled drinks featuring the 100% Canadian Milk symbol.

These drinks will be sold across the country in all Tim Horton's locations, as well as in major grocery chains.
Stay tuned as the first launch is slated to take place in August, followed by a second launch in September or October. These events will be supported with an extensive integrated media campaign, which will include mass media, digital and public relations activities.
FUELLING WOMEN CHAMPIONS
The Fuelling Women Champions (FWC) movement, focused on the advancement of women in sport, is a unique opportunity for Canada's dairy farmers to help drive social change while tapping into a sponsorship category that no other brand is invested in.
It's a great cause for dairy farmers to support as it is aligned with their values of maintaining a healthy lifestyle that includes healthy eating, and it's a great way to reach out to women, a key consumer segment for DFC's marketing activities.
Overview of activities and results
During the initiative's inaugural year—spring of 2015 to March 2016—, the main objectives aimed to establish credibility and bring more awareness to women's sports. It was brought to life across several platforms and activities, including sponsorships, events, television advertising, public relations, the womenchampions.ca website, and digital and social media marketing activities.
Throughout 2015, FWC made significant progress in terms of performance and impact on consumers' behaviour or attitude.
Within the first year, the initiative:
Generated coverage across major news outlets for its launch, with 100% positive coverage of the initiative, and coverage in top tier media such as the Vancouver Sun, Global News, Radio-Canada, and others;
Earned over 66 million media impressions and 575,510 video views and built a social media following of thousands of Canadians;
Provided free tickets to Canadians to watch Canada's best women athletes perform live, which resulted in over 36,900 attendees at women's sports events;
Improved the overall opinion of Canada's dairy farmers by a statistically significant amount (+5%);
Reached 561,000 viewers through the TSN media partnership, which reinforced the movement's credibility with sports fans;
Executed six Spotlight Event activations, each within different regions, organizations, and sports, including kick-off events for young girls consisting of Q&As and skills clinics with elite ambassadors, on-site premium giveaways and milk sampling;
Promoted local women's sports events and told our story within local markets across Canada.
A word from an ambassador
"You want your children to have everything that life has to offer, and certain things are more difficult for women right now. I know that's changing, and this is another step in the right direction. As a mom of a young daughter, there's a sense of pride and happiness and relief. I believe that Fuelling Women Champions has the opportunity to change the way society thinks. There aren't that many times in a lifetime you can really say you're part of something like that."
Jennifer Jones,
Olympic gold medal curler, five-time National Curling Championship winner and mother.
PROJECT SLEEP
In early May 2016, DFC decided to take a stand on the issue of sleep deprivation, which affects over 15 million people across the country, as we believe a well-rested Canada will be a healthier Canada.
Project Sleep was launched with a media relations campaign fuelled by the release of a national study and a discussion paper developed by sleep experts, followed a week later by a series of television, radio, digital and social executions targeting those suffering from sleep deprivation. The spot "Goodnight, Canada," with 60- and 30-second versions, shows lights turning off, accompanied by Canadian singer-songwriter Hayden performing his own rendition of "Twinkle, Twinkle Little Star." The two 15-second spots and 5-second pre-rolls take a different approach and show a dairy farmer staying up late to help viewers who are sleep deprived, by telling them a bedtime story or shushing them to sleep.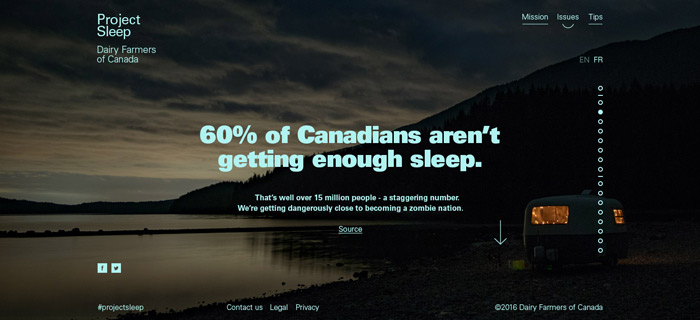 Since its launch, the campaign has been getting a positive reaction across the country and helping enhance the image of producers. The website, ProjectSleep.ca, has generated a lot of activity—day and night—with 45,000 visitors to date. As for our online activities, there have been more than 490,000 video views from our online tactics and more than 11,200 engagements with our Twitter ad. Results from the media relations campaign are currently being compiled.