The proAction Initiative: On-Farm Excellence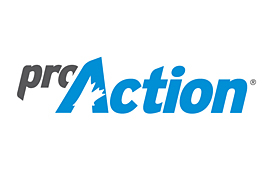 Through proAction, Canadian dairy farmers collectively demonstrate responsible stewardship of their animals and the environment, sustainably producing high quality, safe and nutritious food for consumers.
To offer the best milk every day, Canadian dairy farmers have excellent standards and practices. DFC and members initiated the development of proAction to offer a program to farmers that will assure our clients about the good practices on Canadian dairy farms. With proAction, farmers offer proof they work to ensure milk quality and safety, while meeting societal expectations related to animal care, health, welfare as well as environmental stewardship.
To learn more about the proAction Initiative and how Canadian milk is produced responsibly, visit dairyfarmers.ca/proAction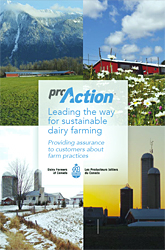 Download the proAction brochure
The proAction Initiative is an efficient and coordinated national framework that brings various best management practices on farms under one umbrella. This approach will allow the Canadian dairy industry to continue its leadership by assuring customers about farm practices. Canadian dairy farmers have collectively and proactively establish terms and timelines for this Initiative.
Through proAction, dairy farmers will:
Implement a single, national, credible, practical on-farm initiative;
Address societal demands on dairy farming;
Support the marketing and branding of Canadian milk.
Farmers are among the most trusted professionals in Canada, along with doctors and nurses. The proAction Initiative will strengthen the dairy farmers' already solid reputation with customers. The step of independent verification will provide proof that farmers are producing Canadian milk responsibly, according to the Canadian expectations for sustainability and quality.
Webinars
References for proAction modules