Elementary School Milk Program - Ontario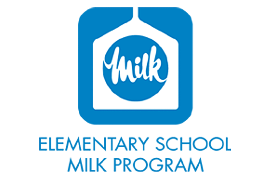 The goal of the Elementary School Milk Program (ESMP) is to make fresh, cold milk available at school for students to enjoy.

Schools get involved because milk helps give kids the nutrition and energy they need to concentrate and perform their best. The ESMP also helps foster school spirit and offers senior students hands-on business experience.

Key Program Facts:
The ESMP is now celebrating its 30th year in Ontario
More than 3,000 volunteers help run the Milk Program every school year
Close to 70% of the elementary schools in Ontario have registered
The ESMP makes fresh, cold milk available to almost 1 million students every day.
What the ESMP Offers You
The ESMP offers you materials and information to help your school run a cost-effective and beneficial Milk Program. Dairy Farmers of Canada has created this online guide with step-by-step instructions for implementing and managing all aspects of your Milk Program.
The ESMP can be used to safely fundraise for your school. We recommend that schools add no more that about 10 cents to a carton of milk to ensure it's affordable to all students.
Registered schools will receive:
A Program Kit: At the beginning of each school year, all schools on the Milk Program will receive a mailer containing everything to run the program throughout the year.
A Registration Kit: Each Spring we will send a registration kit with information on how to re-register your school for the upcoming school year.
Registered schools receive an ESMP orientation and get program information throughout the year. Schools also have access to curriculum-based teaching materials and nutrition education seminars for teachers. For more information go to www.teachnutrition.org.
Does your child get milk at school?
If you are a parent, you can find out whether your kids attend an elementary school that is registered with the ESMP in a snap. And enrolling them is as easy as 1-2-3. Learn more
Questions? Contact us.
Schools can access the Milk Help Desk at 1-888-730-MILK (6455) from 8 a.m. to 6 p.m., Monday to Friday.