Dykstra Farms, New Brunswick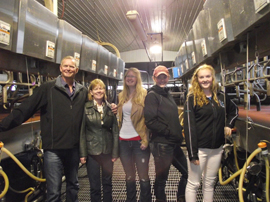 Finalists
Wietze and Natalie Dykstra
Dykstra Farms, New Brunswick
If you ever thought farming wasn't enjoyable, then you haven't met Wietze and Natalie Dykstra! They milk roughly 150 Holsteins in Northern New Brunswick and really enjoy it. Wietze came from the Netherlands at age 20 and met Natalie. They have been farming together for more than 20 years and love dairy farming, as there is always something new to learn or a new challenge to tackle. This is one of their reasons for believing dairy farming is such a good lifestyle choice for them.
"One thing I am proud of, says Wietze, is that I have been able to keep my annual fertilizer bill almost the same for the last 15 years, while doubling the number of cows, and thus mouths to feed, and still have plenty of feed."
Wietze and Natalie have been open to advice from professional agrologists and have benefitted from experimenting with innovative practices. Wietze is part of the local agri-environmental club. Working with crop advisors at the New Brunswick Soil and Crop Improvement Association, they use practices that make sense for improving soil health in their mountainous land and short season, such as planting cover crops, matching fertilizer needs with soil analyses, and incorporating manure into the soil immediately after spreading in order to reduce nutrient loss.
These farmers strive to achieve a balance between economic profitability and environmental and social benefits. For example, a plate cooler and heat reclaimer for milk were installed many years ago, reducing energy use and saving money. Being community-minded, the Dykstras contributed to fixing up a no-till seeder, owned by the local chapter of the New Brunswick Soil and Crop Improvement Association, but sitting in disrepair. The seeder is now available for the whole community to use, thanks to Wietze's investment.
The Dykstras hire employees for their expertise and give them a lot of autonomy. Maybe these are parts of the reasons why employees have stayed for 12 and 4 years respectively! A long-time employee at Dykstra Farms, John Best, gives examples of the Dykstra's care for the environment: "Understanding the potential for eutrophication of downstream water bodies as well as the negative effects associated with both stream bank disruption and over grazing of beneficial native species, he has fenced his cattle out of the stream's riparian zone and installed a pasture pump for the cattle to drink from."
The Dykstras are also conscious of the short season in their area when they choose forage crops. They focus on conserving their well water, re-using wash water to wash floors of the milking parlour, as well as to serve both the farm and their own needs. They value nature and leave the woods on their property intact. They see value in skunks, beavers and swallows for fly control – trying to rely as much as possible on biodiversity to take care of pests instead of using pesticides.