Terryland Farms Inc.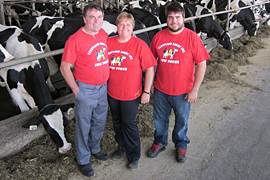 FINALIST ONTARIO
George, Linda and Terry Heinzle – Terryland Farms Inc.
"The management focus of our farm has been to create a sustainable farm and to show the farming community that sustainability can be both rewarding and profitable."
George and Linda Heinzle have been farming in St-Eugene, Ontario since 1983. They milk 140 cows on a farm with 900 acres of land. The Heinzles operate the farm with their son Terry and employ 5 people - 1 full time and 4 part-time.
As a new immigrant to Canada at the age of 20 and a love for farming, George bought a 100-acre farm in St-Eugene, Ontario. He started with 8 kg of quota and has not stopped innovating since. At Terryland Farms Inc., energy conservation, manure management and energy production are the cornerstone of sustainability. George built a biodigester on the farm in 2006 – becoming the first farm in Ontario to sell electricity from waste to the grid. Terryland Farms is a net energy exporter, selling $400,000 of electricity per year back to the province, reducing on farm methane emissions and odours by 90%.
The biodigester produces digestate, which is used as fertilizer. They can use less of it on their fields because the digestate is more available for uptake by the plants. The use of digestate saves the Heinzles between $100-$150/ha of fertilizer costs on hay and corn fields while maintaining and improving yields. The excess heat from the two biogas engines are used to heat the digester tank, to pasteurize off-farm materials, heat the house, the workshop, swimming pool, milking parlour and to dry corn in the fall.
The biodigester also serves to reduce considerable amounts of waste, creating a major environmental benefit. They recover sludge from wastewater treatment plants of large food processing facilities, diverting it from landfills and produce electricity. Emissions and odours from the waste are reduced, improving air quality. They also installed an oil press on the farm and modified their tractor to allow it run on soya oil (80%), increasing power and diminishing their fuel costs by 20. They feed the soya pellets from the press to their animals, which reduced the need for commercial concentrates by 50%.
In the barn, the animals walk mainly on rubber flooring and sleep on pasture mats covered with undigested fibres from the digester used as bedding. The bedding for the cows is not only produced on the farm, but produced by the cows! There are 3 large fans in the barn to keep cows as comfortable as possible during summer months and in winter these fans are designed to reverse and bring heat from the ceiling and control humidity. A foot bath is prepared weekly to assure that foot rot is controlled at all times. Cows are checked daily walking in the parlor to check for hoof problems. If a problem is detected, the Heinzles take action to ensure hooves are trimmed or signs of lameness are examined promptly.
George, Linda and Terry planted 4 kilometers of windbreaks in the last 25 years to reduce soil erosion and attract wildlife to the farm. They reduced tillage through the use of a chisel plow to minimize soil erosion and worked to eliminate manure runoff. They reduced their water consumption by using used water to wash down the parlor and a platecooler to provide water for cattle.
At Terryland Farm Inc., regular communication with workers is key and they aim to ensure employees feel they are valued and share their environmental sustainability goals. The Heinzles are involved in many community projects and initiatives. George was a director at the local Prescott County milk committee for 13 years and a founding member of the Agri Energy Producers Association. Terry is now a member of the Prescott County milk committee and Linda has been secretary/treasurer for the Prescott Federation of Agriculture for 2 years.
The Heinzles host tours for the Alfred Campus, Macdonald College and McGill University. They've also hosted tours from groups from around Ontario, Quebec, Vermont, New York, Austria, Germany and Chile. The farm was selected by DeLaval Canada to attend the International Dairy Federation conference held in Scotland in 2008 on environmental issues (topic: The Heat is On – Environmental Challenges in Dairy Farming.) The Heinzles were recipients of the 2006 Premiers Award for Agri Food Excellence and a 2008 certificate of recognition for long term commitment to conserve electricity. In 2010 they received the "Producer of the Year Award for Agri-business excellence" from the Canadian International Farm Show held in Toronto.
"Terryland has always pushed hard to realize environmentally friendly projects. The expansions and diversifications have proven to be financially profitable so it makes it possible for use to keep our employees well paid and also easier and more interesting for the next generation to join the farm operation."
Everyone at Terryland Farms works hard to ensure that farming can have a prosperous future."