2013 Edition Champions
Congratulations to the 2013 Cheese Champions!
The Grand Champion and 19 category winners were selected from a record 225 cheese entries submitted by cheese makers from Prince Edward Island to British Columbia. The submissions were then narrowed down to 58 finalists by the jury in February.
Sponsored and hosted every two years by Dairy Farmers of Canada, the Canadian Cheese Grand Prix celebrates the high quality, versatility and great taste of Canadian cheese made from 100% Canadian milk.
Here are the 2013 Canadian Cheese Grand Prix Champions: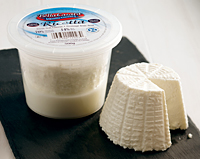 GRAND CHAMPION: Quality Cheese Inc.'s Ricotta
Already a category winner for fresh cheese, the Grand Champion of the 2013 Canadian Cheese Grand Prix is the Ricotta from Quality Cheese in Vaughan, Ontario. Quality Cheese Inc.'s Ricotta is lauded for its creamy texture and milky aroma. Quality Cheese manufactures, distributes and retails Italian speciality cheeses and boasts a team representing four generations of cheese making. Their products are so popular that fans flock to their Vaughan, Ontario location to buy the cheese fresh.
"The jury found this Ricotta refined, delicate and well-balanced," said Phil Bélanger, Canadian Cheese Grand Prix jury chairman. "It demonstrates that a fresh cheese can be as sophisticated as an aged one."
The following are the 19 category winners of the 8th Canadian Cheese Grand Prix:

Fresh Cheese
Ricotta, Quality Cheese Inc., ON
Ricotta is a soft Italian cheese that is semi-sweet to mild in flavour. It is white creamy and it has a milky aroma and a creamy flavour.

Fresh Cheese with grilling properties
Queso Fresco Cheese, Latin Foods Inc., AB
White Fresh cheese made from 100% Canadian milk. It is a traditional cheese from Venezuela. Slightly salty taste, smooth and soft texture. Fresco Cheese has a higher melting point than other cheese what makes it suitable for frying and grilling. Good to prepare finger cheese, Greek Grilled Cheese, Grilled Sandwich, and Cheese in BBQ.

Soft Cheese with bloomy rind
Le Noble, Fromagerie Domaine Féodal inc., QC
Made from pasteurized cow's milk, this soft cheese with bloomy rind has a light aroma of fresh mushrooms and final notes of butter and almond.

Semi-soft Cheese
Tre Stelle Feta Cheese, Arla Foods Inc., ON
Feta is practically an institution among Greek-Canadians, who consider a table poorly stocked if it doesn't contain a plate of this tangy, lively cheese. Feta is stored in brine, which keeps it fresh for months in the refrigerator. White in colour, it ranges in texture from creamy to slightly crumbly.

Washed OR mixed rind Cheese (Soft, Semi-soft and Firm)
Le Mamirolle, Fromagerie Éco-Délices, QC
Semi-soft, washed rind cheese with a fruity aroma and supple, smooth texture. Refined flavour with notes of fruit and hazelnut.

Firm Cheese
Gunn's Hill Five Brothers, Gunn's Hill Artisan Cheese, ON
Five Brothers is a cow's milk cheese that combines traits from Gouda and a Swiss variety called Appenzeller. At eight months old it has a firm yet creamy texture and rich diverse flavours with sweeter overtones. Distinctive eyes are scattered throughout the body of the cheese. All of the milk to produce this unique cheese comes from our family dairy farm. It is named after the five Ysselstein brothers, one of whom is the owner and cheese maker at Gunn's Hill.

Gouda*
*This category was opened during the judging process due to the number of cheeses entered. This allowed the jury to evaluate the qualifying cheeses according to criteria specific to this category.
Grizzly Gouda, Sylvan Star Cheese Ltd., AB
At one year this Gouda has developed a strong firm texture while remaining very smooth and creamy to the palate. The flavour is a subtle caramel and nut with just the right hint of salty tang.

Swiss-type Cheese
Louis D'or 18 months, Fromagerie du Presbytère, QC
This beautiful 40 kg cheese wheel is remarkable because of its size and flavour. Inspired by the traditional cheese-making know-how from the Jura region, the cheese maker has created this magnificent cheese with its fine, complex flavours, which are already eloquently expressed after 18 months of ripening. The Louis D'or cheese gets its name from the Louis D'or farm, which produces the organic milk used to make it. The name of the cheese also refers to the French currency of the same name used under the reign of Louis XIII in 1640.
Pasta Filata
Not enough entries.

Mozzarella (Ball, Brick or Cylinder)
Tre Stelle Mozzarella Cheese, Arla Foods Inc., ON
The origins of the No. 1 cheese in the North American food industry are muddled with time, but we do know that monks in the Italian region of Capua were making versions of it in the Medieval period. In those days, Mozzarella was made with rich buffalo milk. Mozzarella di bufala is still made today, but the milder cow's milk version now makes up the vast bulk of Mozzarella made around the world.

Blue Cheese (various rinds, with or without veining)
Bleu d'Élizabeth, Fromagerie du Presbytère, QC
Natural rind, blue-veined with a balanced salty flavour. Made with organic farmhouse milk.

Flavoured Cheese with added non-particulate flavourings
COWS CREAMERY Appletree Smoked Cheddar, COWS CREAMERY, PEI
COWS CREAMERY Appletree Smoked Cheddar is infused with natural applewood smoke to produce a full, smoky flavour that compliments our award winning 2 Year Old Cheddar. Our Extra Old Cheddar is smoked slowly over a six hour period using applewood chips. This gives our Cheddar the full, smoky flavour that is deliciously mouthwatering and perfect for cooking or eating on its own.

Flavoured Cheese with added particulate solids and flavourings
Raclette de Compton au poivre, Fromagerie La Station, QC
Only certified organic thermalized milk from the family's farm goes into the making of this cheese. Aged for a minimum of 90 days, the texture is semi-soft and is surrounded by a copper coloured washed rind. The aroma is both buttery and fruity with a nice peppery flavour coming through from the line of peppercorns lining the centre of the cheese.

Mild Cheddar (aged 3 months)
L'Ancêtre Organic Mild Cheddar, Fromagerie L'Ancêtre, QC
Mild organic cheddar cheese made from non-pasteurized milk.

Medium Cheddar (aged 4 to 9 months)
Medium Cheddar, Maple Dale Cheese, ON
Established in 1888 as a dairy co-op and originally known as Zion Cheese Manufacturing, Maple Dale was purchased in 1987 and is now family-run, specializing in cheddar and especially known for their aged cheddars. Natural aging develops the rich texture and mature cheddar taste with a spectrum of nutty, salty and slightly fruity flavours.

Old Cheddar (aged from 9 months to a year)
Cheddar 1 year, Fromagerie Perron, QC
Founded in 1890 by Adélard Perron, 4 generations have been involved in the cheese making. Made from raw milk and naturally aged for 1 year, this firm cheese has a nutty flavour.

Aged Cheddar (more than 1 year up to 3 years)
Avonlea Clothbound Cheddar, Cows Creamery, PEI
Avonlea Clothbound Cheddar is hand made in the style of the great traditional cheddars from the milk of Holstein Cows in the countryside of Prince Edward Island. It is made with raw milk that is gently heated but not pasteurized to allow beneficial microbes to thrive and give depth of character and flavour. Avonlea Clothbound Cheddar is matured in cellars at 11 - 12 °C and humidity level of 90% for at least one year. The cloth wrapping of the cheddar wheels allow the cheese to breathe and develop the rich, robust flavours as it matures.

Aged Cheddar (more than 3 years)
5 Year Aged Cheddar, The Black River Cheese Company Ltd., ON
Black River has been making cheese in Prince Edward county since 1901 and is one of the few remaining cheese manufacturers operating as a farmer-owned co-operative. This naturally aged 5-year old cheddar is made from fresh thermalized cow's milk. Guaranteed to wake up your taste buds with that traditional cheddar sharpness and a crumbly texture that is sure to please.

Farmhouse Cheese
Grizzly Gouda, Sylvan Star Cheese Ltd., AB

Organic Cheese
Bleu d'Élizabeth, Fromagerie du Presbytère, QC