2011 Edition Champions
Congratulations to the 2011 Cheese Champions!
On February 19th and 20th, at the Institut de tourisme et d'hôtellerie du Québec in Montreal, jury members carefully observed, touched, smelled, and tasted 203 cheeses – a record number of entries – from six different provinces, giving our judges a wide array of shapes, flavours and textures to evaluate.
The seven-member jury made of Canada's leading cheese experts selected the 17 category Champions as well as the 2011 Grand Champion, which were announced at the Gala of Champions on April 20th in Toronto.
The competition rewards cheese makers for excellence in innovation and the quality of their products. This year's winners showcase the world-class cheeses being produced across Canada and the level of excellence of the art of cheese making.
Here are the 2011 Canadian Cheese Grand Prix Champions: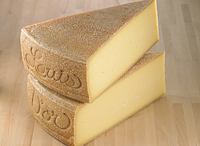 Grand Champion: Louis D'or!
Already a category winner for firm, farmhouse and organic cheese, the Grand Champion of the 2011 Canadian Cheese Grand Prix is the Louis D'or, a 40-kg cheese wheel, from La Fromagerie du Presbytère in Sainte-Élizabeth-de-Warwick, Quebec.

The cheese maker has created this magnificent cheese, which has fine, complex flavours, eloquently expressed after nine months of ripening. ''The milky richness of this cheese is a tribute to the organic milk with which it is made. The cheese has a smooth texture, warm nutty and floral notes in aroma and taste'' said Phil Bélanger, Chair of the 2011 Canadian Cheese Grand Prix Jury and President of the New-Brunswick Chapter of La Confrérie de la Chaîne des Rôtisseurs.
The following are the 17 category winners of the 7th Canadian Cheese Grand Prix:

Fresh Cheese
Mascarpone Tre Stelle, Arla Foods Inc. (ON)
Tre Stelle® Mascarpone is a rich, fresh triple-crème that is a relative of both cream cheese and Ricotta cheese. Mascarpone is prepared in a similar fashion to Ricotta, but using cream instead of whole milk. It is a soft white cheese with a smooth texture that is easily spread. It's versatile enough to be blended with other flavours and is fast becoming a favourite in desserts and sauces, or served with fresh fruit. Look for Mascarpone in the Dairy Case or Deli.

Soft cheese with bloomy rind
Island Bries, Little Qualicum Cheeseworks Ltd. (BC)
Its creamy texture, velvety white rind and mushroom overtones go beautifully with something slightly sweet. The little wooden board, rescued from the burn pile of a local guitar manufacturer, can live again as a coaster.

Semi-soft cheese
Lankaaster Traditional gouda, Glengarry Fine Cheese (ON)
The Lankaaster is a hard cheese with slight slits in its texture. The cheese is shaped as a loaf to express the fact that it is meant to be sliced and eaten directly on bread as the Dutch farmers do. It has a unique profile that is given by the specific starter culture we use and makes it typical of cheeses made on Dutch farms years ago. Packed in wedges and vacuum sealed. Aged two to four months, categorized as mild or medium.

Washed-rind – Soft and semi-soft cheese
Le Mont-Jacob, Fromagerie Blackburn (QC)
The Mont-Jacob, a semi-soft surface-ripened cheese, derives its unique personality from its delicate aroma and fruity, nutty flavour.

Firm cheese
Louis D'or, Fromagerie du Presbytère (QC)
This beautiful 40 kg cheese wheel is remarkable because of its size and flavour. Inspired by the traditional cheese-making know-how from the Jura region, the cheese maker has created this magnificent cheese with its fine, complex flavours, which are already eloquently expressed after nine months of ripening. The Louis D'or cheese gets its name from the Louis D'or farm, which produces the organic milk used to make it. The name of the cheese also refers to the French currency of the same name used under the reign of Louis XIII in 1640.

Swiss-type cheese
Fromage Suisse Lemaire, Fromagerie Lemaire (QC)
A firm Swiss-type cheese with a milky, nutty aroma and a slightly sweet, subtle almond flavour. Available at the Fromagerie and at specialty cheese shops.
Pasta Filata
This category was eliminated, not enough entries.

Mozzarella
Bocconcini Santa Lucia, International Cheese Co. Ltd. (ON)
A pretty Italian name meaning "little bites" that describes perfectly these delicious egg-sized balls, which are also available in smaller sizes. Delicate milky and creamy aroma, mild taste and very light buttery taste. Elastic texture and consistency; usually sold in a brine-filled package.

Blue Cheese
Le Bleu d'Élizabeth, Fromagerie du Presbytère (QC)
An organic, veined, semi-soft farmhouse cheese made with raw milk. With a natural crust dotted with ocre-coloured spots, this cheese contains beautiful bluish veins, sometimes with a slightly green tint due to the presence of Penicilllum Roqueforti. Balanced salty taste. Available at the Fromagerie, in local food markets and specialty shops as well as in some supermarkets.

Flavoured cheese with added non-particulate flavouring
Naturally Smoked Boerenkass, Natural Pastures Company (BC)
Boerenkaas is the Dutch word for "farmer's cheese." A rich tasting semi-hard cheese known for its slightly zippy taste and lovely seasonal flavours. Limited availability. Uniquely superb in soups, salads, omelettes and pizzas and a star on cheese platters.

Flavoured cheese with added particulate solids flavouring
Gouda Herbs & Garlic, Sylvan Star Cheese Ltd. (AB)
Mild Gouda with flavorful herbs and garlic.

Mild Cheddar
Mild Cheddar, The Black River Cheese Company Ltd. (ON)
This cheese has a buttery, nutty flavour that gets stronger with age. Salty, slightly sweet and fruity taste. Firm, smooth and somewhat elastic texture. Texture becomes a bit granular with age.

Medium Cheddar
Cheddar moyen Biologique, Fromagerie L'Ancêtre (QC)
Certified organic by Québec Vrai —a non-profit organization for the certification of our own home-grown products, encompassing all aspects of agricultural production — this medium cream-yellow Cheddar is firm, smooth and slightly elastic. It has a mild, milky flavour. Lactose free.

Old, Extra Old Cheddar
Le Jersey du Fjord, Bergeries du Fjord (QC)
Cheshire-type farmhouse cheese aged at least 10 months. Contains 31% M.F. and 37% humidity. Washed-rind firm cheese. Raw, whole cow's milk obtained from a neighbouring herd (Ferme Pierre Girard). The Cheshire has the appearance of a round wheel as high as it is large. It has a distinctive granular texture and uneven appearance. This peculiarity is due to the way the cheese is made: the curd is ground, which is why it lacks uniformity. Even though the Cheshire is pressed, this is not sufficient to eliminate all the little openings, where bluish mould sometimes develops.

Aged Cheddar (1-3 years)
Avonlea Clothbound Cheddar, Cows Creamery (PEI)
Canada's only clothbound Cheddar. It is aged just over a year, but the cloth allows the cheese to breathe and in that short time it develops a sharp and earthy flavour.

Aged Cheddar (4 years +)
Cheddar Doyen 4 ans, Fromagerie Perron (QC)
A firm cheese with a nutty flavour that intensifies over time. The Perron Cheddar is an authentic product from the Quebec soil. It is aged over long periods, which vary from nine months to four years.

Farmhouse cheese
Louis D'or, Fromagerie du Presbytère (QC)

Organic cheese
Louis D'or, Fromagerie du Presbytère (QC)