Our Economic Contribution
The Canadian dairy sector is a dynamic and consistent contributor in every province; there's reinvestment and spin-offs throughout the agri-food value chain and social fabric of Canada's rural communities.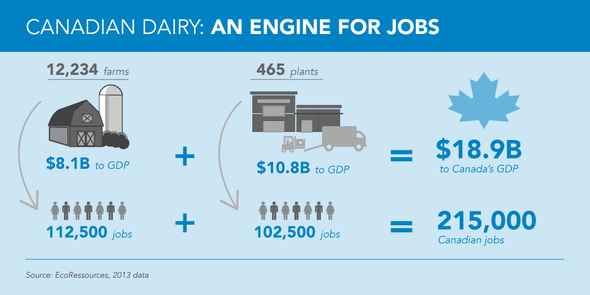 Dairy is one of the top two agricultural sectors in 7 of 10 Canadian provinces.
The sector's GDP contribution has increased from $15.2 B in 2009 to $18.9 B in 2013.
Jobs have changed, decreasing at the farm level and increasing in value-added processing level, remaining around 215,000.
Canadian dairy farms shipped 7.8 billion litres in 2013, up from 7.6 billion litres of milk in 2009.
In 2013, the Canadian dairy industry contributed $3.6B in local, provincial and federal taxes.
Canadians spend less than 10% of disposable income on food, one of the lowest in the world (1.03% on dairy).
Regional Breakdown
Videos
Nova Scotia:
https://www.youtube.com/watch?v=9gpduWupTSc
Ontario:
https://www.youtube.com/watch?v=YmvDwCqekCU ; https://www.youtube.com/watch?v=iKsVE8-dugs
Quebec (French only):
https://www.youtube.com/watch?v=UPnRf5Z8CTs&feature=player_embedded