Dairy Barns
Dairy cows live in barns that use one of two systems: free-stall or tie-stall barns.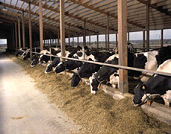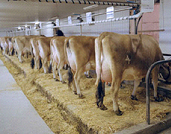 On many Canadian dairy farms, cows move between the barn and other parts of the farm for milking, feeding and grazing outside in nice weather.

The traditional tie-stall barn gives each cow her own stall with bedding and free access to food and water in front of her in a manger. She is milked in her stall, alongside her herd mates. Afterwards she can be let out to pasture in nice weather.

On both types of farms, cows are usually milked twice daily. Modern dairy barns are well-ventilated to ensure cows have plenty of fresh air. When it is too hot or too cold outside, cows prefer the comfort of barns, where they can stretch out on comfortable bedding of straw, saw dust, recycled rubber mats or even "waterbeds".

There is also two popular ways to house dairy calves – in individual hutches or in group pens inside a barn. Farm animals are mostly kept inside barns for the same reason Canadians keep their pets indoors: health, comfort, safety, food and water.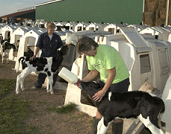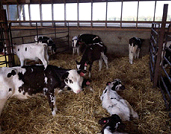 Feeding our Cows
Cows eat a balanced diet of forage (pasture, silage, hay) and grains (barley, corn, soya, other) with supplements to maintain optimum health and production of quality milk. Perennial forage crops such as alfalfa and grass, which can only be fully utilized by ruminant animals, provide immense environmental benefits. The extensive root systems of perennial forage crops actually add organic matter to the soil and stabilize the soil structure, thereby reducing losses due to wind and water erosion.