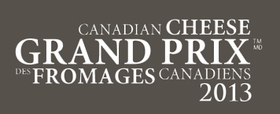 Now in its 8th edition, this prestigious national competition honours our Canadian cheese makers, giving them the opportunity to showcase the expertise and passion they invest in their craft.
Dairy Farmers of Canada sponsors a nationwide competition to honour all categories of Canadian cheeses made from 100% Canadian cow's milk and certified as such. This event was launched in 1998 to encourage competitiveness and product excellence, as well as to increase the knowledge and appreciation of Canadian cheeses among industry professionals and consumers.
2013 Cheese Grand Prix Winners
During the 8th edition of the Canadian Cheese Grand Prix, Dairy Farmers of Canada declared Quality Cheese Ricotta as the Grand Champion. The Ricotta made history as the first fresh cheese and the first cheese from Ontario to be honoured as a Grand Champion. A jury of top Canadian food industry experts selected it from 19 impressive category winners.
Discover some of the winning cheeses in our 2013 Canadian Grand Prix Recipe Collection on AllYouNeedIsCheese.ca/GrandPrix

You may also download the list of Champions and the Rules and Regulations in PDF.
Meet the 2013 Canadian Cheese Grand Prix jury members
Last February in Montreal, the jury members met and judged all of the 225 submitted cheeses... one after the other. Let's meet these dedicated experts.