How will we get there?
At DFC's Annual General Meeting of July 2013, delegates adopted a 10-year plan to develop and implement the proAction Initiative across the country.
Various aspects of dairy farm practices are brought under the umbrella of the proAction Initiative. The objective is to show customers dairy farmers are proactive in providing high-quality, safe and sustainable food. A single national implementation strategy aims to simplify administration and infrastructure, and keep costs reasonable for farmers.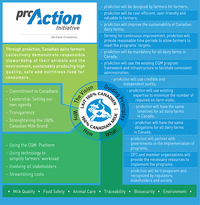 These guiding principles are:
proAction will be designed by farmers for farmers;
Striving for continuous improvement, proAction will provide reasonable time periods to allow farmers to meet the programs' targets
proAction will be mandatory for all dairy farms in Canada;
proAction will be transparent and recognized by regulators, stakeholders and society
proAction will improve the sustainability of Canadian dairy farms;
proAction will be cost-efficient, user-friendly and valuable to farmers;
proAction will use existing expertise to minimize the number of required on-farm visits;
proAction will have the same timelines for all dairy farms in Canada;
proAction will have the same obligations and consequences for all dairy farms in Canada;
proAction will use the existing CQM program framework and infrastructure to facilitate consistent administration;
proAction will use credible and independent audits;
proAction will partner with governments in the implementation of the programs;
DFC and member organizations will provide the necessary resources to implement the programs.