UBC Dairy Education and Research Centre, Managed by Nelson Dinn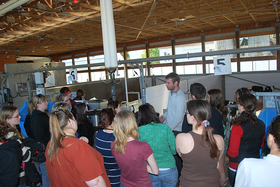 A Marriage of Science and Farming
UBC's Dairy Education and Research Centre is a centre for innovation on animal care, environment and other sustainable farming practices.
The UBC Dairy Education and Research Centre (Dairy Centre) is tackling issues such as animal welfare, food safety and sustainable farm practices with state-of-the-art research. This self-sustaining dairy farm that is home to one of North America's largest dairy cattle research and education facilities. It houses 500 Holsteins, including 250 lactating cows.
"The Centre provides a unique platform, one where research is funded primarily by dairy farmers, to demonstrate that the Canadian dairy farmer is listening to their customers and supporting research into better ways of farming," says Shelagh M. Niblock, a senior livestock nutritionist who has been working in the BC dairy industry for 35 years.
With its vision to create an exceptional learning environment with world-renowned dairy animal care researchers, the Centre attracts students from around the world who aspire to be creative leaders and outstanding researchers. More than 200 students from over 35 different countries have received training at the Centre since 1998.
The Dairy Centre is committed to improving the lives of its animals, and that of other farm animals with leading research in animal welfare and reproduction. The Centre's researchers have been instrumental in the development of the Code of Practice for the Care and Handling of Dairy Cattle, with their research at the source of many of the scientific principles supporting the Code.
The farm benefits from these practices: the herd fares in the top 10% for longevity of dairy animals and has a very low calf mortality rate.
"Given the heightened awareness of animal care, the work done at UBC is both timely and relevant," says David Janssens of Nicomekl Farms Ltd in Surrey, BC, who recommended this farm for the award.
Any consumer concerned with the treatment of dairy animals on farms can gain an appreciation for farmers by taking part in tours of the facility. Nelson and the researchers regularly host tours in which they discuss dairy farm management practices, responsible care and handling of animals - to dairy producers, government officials, industry groups and other visitors. They receive about 3,000 visitors each year.
An advantage of being a fully-functional research farm is that the results of studies can immediately be incorporated into the day-to-day management of the dairy farm. For example, the farm opted to milk-feed their calves in groups of nine after research showed cognitive and social benefits to this type of calf rearing. They also use automated calf feeders and a milk pasteurizer from DeLaval.
Sustainable Solutions and Achievements at the UBC DERC
Manure processing: The farm was first to install a sand-bedding recovery system of its kind in Canada, whereby sand used as animal bedding is separated from the manure and recovered. Sand can then be re-used as bedding, resulting in very little sand being spread on fields being fertilized with the manure. In the last 12 months, this system has recovered over 80 percent of the sand used, dropping bedding costs by $32K/yr.
Water conservation: Water used for cooling milk is reused as drinking water for cows and for hosing down the milking parlour. Water used when washing the bulk tank and the milk line system is used to clean down the holding area (where cows wait their turn to be milked). Water is then recaptured and used in the sand separator to help separate the bedding sand from manure!
Recovering phosphorus from manure: The farm is collaborating with UBC's Department of Civil Engineering to develop an economical way to recover phosphorus from dairy manure into a reusable form, using the Department's patented phosphorus recovery technology. Initial work has led to recovery of phosphorus in the form of magnesium ammonium phosphate (struvite) pellets, which release phosphorus slowly, much in the same way a synthetic slow release fertilizer does. This is a significant innovation because scientists estimate that the need for phosphorus in food production will exceed the world's capacity to produce it by 2035.
Wildlife conservation: The farm is located on land that borders large forests and mountains, and is home to many wild animals, including black bears. The bears forage the land for berries and grass in the summer and the Centre sacrifices two hectares of mature corn every fall for the bears to feed on, making for a more healthy population of black bears and other wildlife.
The Centre has been managed by Nelson Dinn since it first opened in 1997. Born and raised a stone's throw away from the Centre's grounds, with a Graduate degree in Animal Science, Dinn and his dedicated staff haveplayed a key role in ensuring that the Centre provides excellent teaching and research facilities: "You can't have research without the research infrastructure," says Dr. Jim Thompson, Dairy Centre director. "We wouldn't have been able to develop what we have without him."
In its special role as a research farm, the Centre has a website http://dairycentre.landfood.ubc.ca/, on which a series of videos can inform anyone interested about the Centre or about dairy farming!