Mario Lefebvre & Denise Joyal, Ferme Bois Mou 2001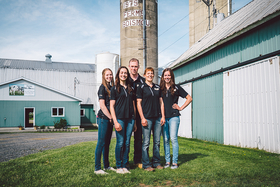 Ferme Bois Mou 2001 inc. shows that investing in the environment and your community delivers farm profitability.
It's very clear to anyone who meets Mario Lefebvre and Denise Joyal and visits their farm, Ferme Bois Mou 2001 inc., that sustainability is a key driver to decision-making for the farm. They are leaders and innovators in environmentally-friendly farm practices with the goal of building a healthy future for their family, their neighbours and the next generation of farmers.
"Making a decent living from agriculture in harmony with our environment and the people around us is an important principle for Denise and me," says Mario Lefebvre. "It is an integral part of the mission of our farm."
This mission drives them to invest in new technologies and methods that protect the environment, as well as increase their farm profitability.
They have used direct seeding in all of their fields since 2006, with encouraging results. Machinery use and costs have been reduced, soil structure has improved and yields are on the rise. "The positive impacts of direct seeding continue to grow," says Mario. "The most obvious are the savings in time and fuel, but it goes way beyond that."
Ferme Bois Mou first developed an agri-environmental fertilization plan in 1998, and has reviewed and updated the plan in consultation with agronomists every fall since. Last year, the couple signed up for the satellite map service of the Coop Fedérée du Québec to apply lime and fertilizer at a variable rate. This new technology maps fields using colour-coding and allows farmers to see where they should readjust application rate to optimize the soil's health and fertility. "The costs incurred by this service are minimal compared to the savings in fertilizer and lime," says Mario.
Waste reduction and recycling are important to the farm's mission. In order to recover all the plastic wrap from round bales used on their farm, they had a plastic compactor made, which they invite the neighbouring farmers to use as well. They also developed a relationship with waste management company Gaudreau Environnement to take this plastic, as it is not something the municipal collection service would take.
To minimize their water footprint, the farm recovers water from their plate cooler for cows to drink. They also installed a timer that shuts off the power to the pump if a pipe breaks in the barn to prevent waste. Cows like the warm water better than the cold well water, according to Mario.
This couple is active in the agricultural community. They have hosted numerous open houses and given speeches on their agri-environmental practices. In 2014, the Quebec Ministry of Agriculture organized an information day at their farm to discuss their success in adopting leading-edge technologies that promote farm profitability.
Mario is one of the directors of the Club Action semis direct, where agriculture producers exchange ideas and experiences on direct seeding (minimum tillage and no plowing). "Progress will happen more quickly by sharing our experiences, successes and failures," he says.
"It's important to stay on the lookout for new techniques and technologies that could benefit our farm," says Mario. He and Denise make sure to stay up-to-date on the latest conferences, symposia and other events organized by the agricultural community to remain well-informed.
Other Notable Sustainable Practices and Achievements at Ferme Bois Mou 2001 inc.
Animal care and comfort is very important to these farmers. They changed the stalls from metal to flexible plastic and installed water mats for the cows to improve their comfort and production.
Soil erosion is practically non-existent at Ferme Bois Mou. "We set up a 15-foot buffer strip all along the streams where we harvest hay three times a year. This prevents erosion and creates a buffer zone for the manure, fertilizer and herbicides that's a total of seven kilometres," says Mario.
Planting fall cover crops has improved nutrient retention in the soil and decreased herbicide costs by keeping weeds at bay.
"The farm's sustainable development is very important to Mario and Denise because they want their daughters to inherit a successful dairy farm that operates in a healthy environment," says Alain Fournier, a dairy and cattle production consultant with MAPAQ in Central Québec.
When their daughters took an interest in taking on the family business, Mario and Denise increased the size of the farm by purchasing continuous quota, adding field crops and doubling their efforts in applying sustainable farm solutions. Their oldest daughter, Patricia, recently finished her training at the Macdonald Campus, and their middle daughter, Molyka, just completed her first year at ITA in Saint-Hyacinthe in Farm Management and Technology. As for the youngest, Kathy just finished Grade 10 and has expressed an interest in agriculture.
"We are preparing the farm for our daughters," says Mario. "We want them to benefit from our choices and continue a strong dairy tradition."