Dwayne & Becky Perry, Perryhill Farm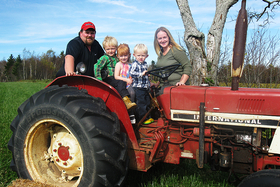 Securing a Sustainable Future for Agriculture
Perryhill Farm carrying the family farm tradition with focus on data analysis and community involvement
"Being a farmer is so much more than a job or running a business. It's a lifestyle, and more importantly, it's a lifestyle we have chosen," says Becky Perry, who runs Perryhill Farm in New Brunswick with her husband, Dwayne, and their three children Dylan, Paige and Jack. They took ownership of Perryhill last year from Dwayne's parents, Reg and Dawn, who still work on the farm with them.
The sixth generation farmers are active community leaders and committed to finding ways to improve the efficiency, safety, sustainability and profitability of their farm.
"We are very involved in the industry to help see change and growth," says Becky Perry.
Dwayne is on the board of the Kings Co. Soil and Crop Improvement Association and has been a director for the New Brunswick Soil & Crop Improvement Association, the Atlantic Council for Bioenergy Cooperative, and the New Brunswick Young Farmers' Forum. Becky is a facilitator with Agropur and a member of the Sussex Holstein Club and the Sussex Dairy Management Group. The family is also very active in the 4-H program.
"This farming family is always the first to ask, 'What can I do'," says David Dykstra, a livestock development specialist with the provincial government, who recommended these farmers for the award.
The Perry's also open their farm to the public for Open Farm Day every September and happily host school visits. "We give tours of our farm so people have a clearer understanding of what we do and how their food and milk is produced," says Becky.
Becky and Dwayne are securing a future in agriculture for themselves and their family and have applied numerous environmental, animal health and record keeping solutions to this goal.
Dwayne spends a significant amount of time working on improving soil fertility and taking precautions to ensure the environment remains unharmed. Soil fertility is tested and tracked to prevent soil depletion. The quality of their soil and the grass legume mixtures Dwayne picks allows the Perry's to grow high quality forage in a three-cut system for their animals and keep their purchased food costs at a minimum.
Becky is a business graduate and is conscious of the cost of production for the farm. "She is probably one of the only dairy farmers in the province of New Brunswick who knows what it truly costs to produce a litre of milk or kilogram of butterfat," says David Dykstra.
This meticulous record keeping has allowed the Perry's to see a positive return on their investments, and is essential in making solid management decisions. "We are constantly looking at the data to see where improvements or changes need to happen to stay ahead of the curve," says Dwayne. "We don't want to be good farmers; we want to be awesome farmers."
The Perry's have developed a new nutrient management plan to minimize fertilizer spreading and improve efficiency of manure applications. They have already been able to cut their annual fertilizer use by close to 45 tonnes.
Another example of proactive and forward-looking analysis of data is found in how, by tracking their veterinary expenses, they noticed they were often treating cows for lameness. They brought in a hoof trimmer more often, and made a plan for trimmings which resulted in healthier, more productive cows.
Other Sustainable Solutions and Achievements at Perry Hill Farms
The Perry's have implemented reduced tillage and have been able to limit the number of passes, and the amount of rock picking, while still providing a good seed bed.
Becky has instigated a rigid health program for the herd, including lowering the calving interval and the cull rate. The farm is compliant with the Canadian Quality Milk Program and has an updated environmental farm plan.
Cow comfort is a priority as the animals are seen as an extension of the family. The Perry's built a facility that gives cows more space than is recommended in the Code of Practice for the Care and Handling of Dairy Cattle (2009).
By incorporating improved mastitis protocols, they have been able to lower somatic cell count to an average of 100,000 – and improve milk production by over 15%.
The Perry family is creating a sustainable farm for the future of their children and generations to follow.
"We look forward to continue to be involved to help make the industry stronger, use knowledge and technology to make our farm more sustainable, but most importantly, to continue to love what we do and carry on the family tradition of running a successful farm."