Ferme Clobert Inc., Quebec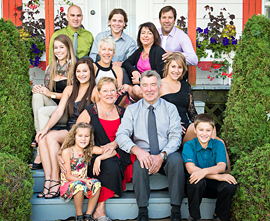 Finalist
Stéphane, Claude and Ginette Robert
Ferme Clobert Inc., Quebec
Located in the center of Quebec, Ferme Clobert is a model of a family farm: busy, passionate about their land and their cows, and dedicated to moving the dairy industry forward in a sustainable way. Since they bought the farm in 1975, the Robert family has hosted numerous farm tours for a diverse list of groups (fellow farmers, school groups, agricultural societies). Understanding the importance of being active members of their community, various family members have been all involved in agricultural organizations and clubs, community groups and even municipal council.
"The important thing is having a good overall view of the operation in order to make wise decisions, while considering the opinions of experts and advisors. You shouldn't be afraid to innovate, but to do so, it's necessary to make gradual and well-planned changes. With this approach guiding decisions, it is possible to outdo yourself day after day with the aim of preserving the environment and the farm's productivity," says the Roberts.
This is not the first time this family is recognized for its commitment to sustainable farming. The farm was named Knight of the Order by the Ordre du mérite agricole in 1991, and Officer of the Order in 1996.
Stéphane was a founding member of their local agri-environmental club, Club Yamasol, and remains on its Board of Directors to this day. In doing so, they stay well connected and aware of current issues and research in agricultural practices. In fact, they advise anyone to surround themselves with good advisors, saying that to succeed "one must be well supported by professional, keen advisors to maximize wise advice". The Roberts regularly receive counsel and advice from the Yamasol management club, their local feed mill, and Valacta. They also rely on their veterinarian for preventative health visits to monitor and maintain their herd of cows in good health.
The advice received has brought great benefits to both the environment and the farm's bottom line. For example, they save $200-$300 per hectare on their fertilizer bill annually, maintaining higher crop yields than the regional average. In their field crops, the Roberts have also transitioned from conventional tillage to reduced tillage with direct seeding, reducing fuel consumption and the cost of equipment maintenance. The biggest benefit of these practices is to help prevent wind erosion and surface runoff, problems commonly associated with flat topography. They regularly employ cover crops and crop rotations, and just last year purchased equipment for split application of nitrogen fertilizer. With this, they are better able to match nitrogen application to the needs of the growing crop, thereby reducing fertilizer use even more, as well as minimizing nutrient loss.
Other practices that are good for the environment on this farm include energy conservation with cooling plates and milk heat recovery for hot water, as well as reverse osmosis in the maple production side of their farm. They also maintain riparian buffer strips and recycle plastic that preserve hay bales on the farm.
« Ferme Clobert is made up of keen, innovative people who, by exhibiting leadership, contribute to the influence of the agricultural community through great respect for the environment." -Yanick Beauchemin, agronome at Club Yamasol.