Clovermead Farms, Inc. Ontario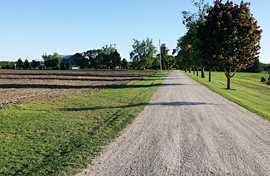 Finalists
Korb & Kelly, and Korb's parents Bruce & Deborah Whale
Clovermead Farms, Inc. Ontario
Clovermead Farms takes great pride in their work and their operation. It is their philosophy not just to take care of the land, but to improve it. The farm is a living example of what happens when the triple bottom line is considered – environmental responsibility, social equity and financial viability.
"By the very nature of the word 'sustainable', properly executed projects will be viable over the long term," believes Korb Whale. "However in order to make sound business decisions, the economic return must occur over a reasonable time period."
The Whales value their employees, providing them lunch, so they all eat together and have input in developing priorities and goals that consider everyone's needs and preferences.
There is a long list of environmentally beneficial practices undertaken at Clovermead Farms. In 2012, the Whales installed an anaerobic digester that turns cow manure into biogas, that in turn produces electricity and transforms the dry matter into a source of clean bedding and/or high quality fertilizer, that has fewer weed seeds and pathogens than regular manure. They have also committed to maintaining a minimum of 10% of their land base as wildlife habitat and forest, with wildlife corridors made of tree rows to connect woodlots and streams. In the last 40 years, they have planted roughly 50,000 trees as part of their forest management and efforts to stabilize stream banks and reduce wind erosion through windbreaks.
Practices to reduce waste, water consumption and energy use are also considered at this farm every day. For example, the water that is used to pre-cool milk is used as drinking water for the cows, and the waste heat from cooling the milk is used to heat water. Buildings are built with the idea of function and longevity in mind – built to last and flexible enough to be added to or renovated if farm needs change. The Whales also use natural ventilation, as well as energy efficient lighting, heating and cooling.
Innovation and efficiency are top of mind for the Whale family. They often participate in research projects undertaken by the veterinarian or engineering departments at the University of Guelph, and are currently involved in a GHG mitigation project being led by the School of Environmental Sciences. "Their interest in sustainability clearly extends beyond innovative technologies (e.g. robotic milking, biogas, recycled bedding)", say researchers Claudia Wagner-Riddle of the University of Guelph, and Andy VanderZaag of Agriculture and Agri-Food Canada, "and reflects their view of the dairy farm as an integrated system where nutrients, crops, cows, and other ecosystem components fit together."
At Clovermead, community involvement is about more than planting trees to reduce farm odours for neighbours, though they do this on a large scale. These farmers have long contributed to the greater neighbourhood good. For example, Korb's grand parents started the community's recycling program 30 years ago – driving their own and several neighbours' recycling to the plant. Today, they continue to be very involved in local associations (e.g. Grand River Raceway; Highland Rugby Club; Biogas Association and the Progressive Dairy Operators).They certainly keep busy building communities!
All of these activities have served the farm's bottom line well. While maintaining their yields, they no longer need to purchase commercial fertilizer. While the Whales acknowledge its steep investment cost, the anaerobic digestion provides electricity for sale, waste heat for capture, a bedding source for the cows, elimination of weed seeds, pathogens and odour and the provision of a high quality fertilizer that justifies the investment.
Cow comfort increased to the point that they produce an estimated 1 kg of milk more per day because of the clean bedding provided from the process. They installed a DeLaval robotic milker in 2007, which fits in their approach to dairy farming: cows are free to milk when they want and as often as they want, and the farmers can spend more time on other priorities, such as cow care and family life.
The farm's mission statement sums it up: Clovermead Farms strives to sustainably produce milk profitably, and have fun doing it. Watch this video to know more about Clovermead!