Bakerview EcoDairy, British Columbia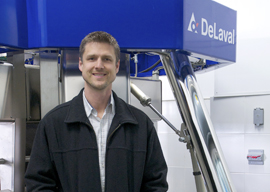 Finalist
Bill Vanderkooi
Bakerview EcoDairy, British Columbia
What happens when you cross a love for the dairy industry with care for the environment and a deep desire to produce high quality dairy products? The EcoDairy! Located in Abbotsford, the EcoDairy is "the first demonstration farm of its kind in Canada." Milking 50 cows with a DeLaval robotic milking system, the farm is family owned (not a university farm) and open 7 days a week to anyone wanting to learn more about how their food is produced. A visitor even wrote a blog about her family visit at EcoDairy! The farm also grows fruit and vegetables, hosts an animal exhibit and petting zoo, and grows rice for a local sake maker. Look up when you visit, and you might even catch a glimpse of a goat on the roof!
"We wanted to display and promote an environmentally friendly, sustainable and cow friendly approach to dairy farming. We have innovations in cow comfort, an anaerobic digester, the green roof, high-efficiency lighting, and efficient heating and cooling systems," says Bill.
EcoDairy works with various stakeholders who appreciate the farm's unique approach of integrating feed, farm, freight, and food. "I believe EcoDairy plays a key role in promoting agricultural innovations within the dairy industry in addition to educating the broader community on where their food comes from and agricultural best practices," said John DeJonge, of Artex Barn Solutions, who did not hesitate to endorse Bill Vanderkooi for the Dairy Farm Sustainability Award.
The farm focuses on public education, demonstrating the benefits that the dairy industry brings to the community. The discovery centre also teaches visitors through interactive displays and games about milk production and where their food comes from. Not only the visitors are able to see the cows milk themselves on the robotic milker; online visitors can too, via webcams. EcoDairy is an early adopter of new technology, including an online presence (ecodairy.ca, facebook.com/EcoDairy) and has also worked hard at implementing technologies for increased cow comfort and environmental benefit – including gel mats and a grooming brush for the cows (which can also be seen on webcam if a cow is using it while you are online), high efficiency lighting and heating/ventilation systems.
EcoDairy was also the first dairy farm in British Columbia to install an anaerobic digester, producing electricity for the Cowpower program. The digester process can also produce clean and comfortable bedding for their cows and a soil amendment (fertilizer) for their fields that has more nutrient availability and fewer weed seeds and pathogens than regular manure.
EcoDairy is committed to excellent ecological management. They recently installed a riparian zone along the Marshall Lonzo creek bank to prevent erosion. Blue heron and bald eagle habitat is conserved on the farm. They also house 3 million honeybees on their farm to encourage natural pollination and bolster pollinator health. Rainwater is captured and stored for use in irrigation of the pasture. And a few years ago, when EcoDairy was putting up new buildings, they sourced their materials sustainably, using pine beetle wood and laminate beams.
Watch these videos to know more about EcoDairy!