Rimrose Dairy Ltd. Alberta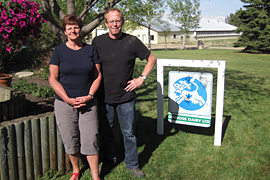 FINALIST - WEST
Marian and Jan Slomp – Rimrose Dairy Ltd. Alberta
"Understanding biology, symbioses and ecology is a cornerstone of knowledge for sustainable wealth creation."
Marian and Jan Slomp of Rimrose Dairy Ltd. have been farming in Rimbey, Alberta since 1989. They milk about 60-65 cows on 425 acres of slightly rolling black loam soil amidst parkland in central Alberta.
The Slomps studied Holistic Resource Management practices in the nineties and have applied them on the farm since. Their management approach has been effective in helping them meet and maintain sustainability goals on farm and in their community. Their comprehensive plan includes their goals and they strive to ensure that each decision and action reflects the social, environmental and economic sustainability values cited in their plan.
At Rimrose Dairy Ltd., dairy cattle graze on pasture from the middle of May to the end October every year. Grazing management is a sustainable and cost saving practice at the farm. Solar energy is directly harvested and takes advantage of the cow's ability to consume substantial amounts of fresh grass. Herd health, natural mineral cycling and reduced use of machinery for feeding or cleaning the barns for 4 to 5 months of the year are low cost alternatives to housing the animals year round. Grazing also reduces the need to feed concentrates during the pasture season, instead feeding cattle highly nutritious grass. They save approximately $35,000 per season compared to dry lot feeding.
All organic waste including manure as well as wash water is measuredly applied as fertilizer to pastures and cropland on the Slomps' farm. Liquid manure is treated with bacteria to enhance aeration, reduce odours and enhance nutrient use. This supports the core practice of managed grazing which is to maximize nutrient cycling naturally. Nitrogen fixing through growth of legumes is maximized in pasture and forage production. No artificial nitrogen is applied on pastures or forage growing acres. Small amounts are used on grain growing acres. The nutrient cycling is optimized in such a way that phosphorous and potassium fertilizers are hardly needed.
The Slomps aim to preserve biodiversity on the farm. Perimeter vegetation is present, forests are fenced out and pastures and forage producing acres are only treated with organic remedies for pests and weed control. Riparian areas are fenced off; fauna and flora in and around the creeks are rich and undisturbed by cattle. They leave vegetation on runoff trajectories to prevent soil run off resulting in oxygen rich water in the creek that runs through the land.
"Our decisions are made while questioning the short and long term effects they have on the community, on the ecology as well as on the immediate and long term bottom line on and off the farm."
Marian and Jan are committed to producing high quality milk and participate in the Canadian Quality Milk Program. They exclusively feed their cattle on farm grown feeds and have strict protocols in place to handle medicine. They set high cow comfort and animal welfare standards.
All members, including one full time worker involved on the farm work in accordance with the Slomps' sustainability model and goals. They make important contributions to their community and strive to share their sustainable practices to produce food. The Slomps organize multiple grazing tours through the Grey Wooded Forage Association and Alberta Agriculture Extension services as well as classroom sessions where grazing management practices are shared. They've presented their approach to the Western Canadian Dairy Seminar, and opened the farm to elementary school visits. The Slomps also provide three acres of land to the people of Rimbey to grow vegetables for their own use free of charge.