Ferme Sylvain Laquerre Inc.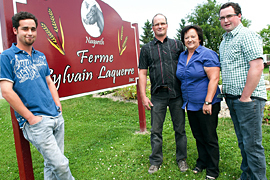 photo: Éric Labonté, MAPAQ
Finalist Quebec
Sylvain Laquerre, Noelline Dusablon, Maxime Laquerre – Ferme Sylvain Laquerre Inc., Saint-Casimir, Quebe
"Producers must fully assess the impacts of changes on their farms and maintain a good balance between environmental goals and financial impacts on the farm. Ultimately, we shouldn't be afraid to innovate."
Sylvain Laquerre and his family are seventh generation farmers in Saint-Casimire, Quebec. The farm was first established in the area in 1813. The family has worked to make considerable changes since the 20th century, innovating for growth. In recent decades, milk production on the farm has increased from 8 kg of quota in 1980 to 64 kg today with 52 milking cows in a total herd of 66. They cultivate 160 hectares of land with crop rotations consisting of soy, corn, alfalfa and wheat for human consumption.
The Laquerres are pioneers in watershed protection and habitat conservation in the province. A small river runs through the entire length of this farm, which consists of slightly sloping fields of clay loam. The Niagrette River runs through their land. Recognizing the need to consider the environmental risks, Sylvain and his partner Noelline spearheaded the Niagrette River watershed pilot project. They worked tirelessly to rally support from other producers in the region. Their leadership, innovative approach and collaborative approach helped stabilize 1.5 kilometres of the waterways and vegetate 49.3 kilometres of riparian buffer strips and windbreaks. The project set the standard in the province, resulting in the production of a provincial guide that was used for 50 similar watershed projects that followed throughout the province of Quebec. Workshops were set up for producers on the topics of riparian buffer strips, shoreline stabilization, soil profiles, hedgerow windbreaks, intercropping and direct seeding under live green cover.
"We always maintain a dynamic interaction with our various stakeholders. We are always alert to new developments and new projects in order to contribute to the advancement of new practices that various stakeholders advocate."
The Laquerres' watershed management initiatives increased wildlife on the farm, resulting in gains in the return of fauna that were deemed by the Fondation de la faune du Québec as "remarkable". The Laquerres identified 24 species of birds, a number of mammals, reptiles, amphibians and fish on their property. They installed 25 birdhouses to attract bird species that control insects and the preservation of their waterways saw the return of the Brook Trout.
On the farm, the Laquerres used a number of management practices to reach their sustainability goals. They reduce tilling and apply direct seeding to help reduce greenhouse gases from the soil and reduce odours for better air quality. As a result of direct seeding, they noticed a considerable drop in fuel and machinery maintenance costs. They expanded and managed riparian buffer strips as well as windbreaks to minimize soil and nutrient losses into the waterways. Windbreaks were installed around the buildings and manure storage to help reduce odours.
The Laquerres have an Environmental Farm Plan, a Nutrient Management Plan, a Whole Farm Plan, a Wildlife Habitat Plan and a farm succession plan. Their fertilization program is based on the rational use of manure and fertilizers that ensure a considerable savings in inputs and enable optimum yields in their fields. They distribute fertilizer to ensure it is in the right place at the right time and reduce losses. They rotate crops to reduce the risk of disease and increase yields.
Inside buildings and barns, they reduced on-farm energy use to achieve considerable savings. For the last 20 years, they've implemented a system that converts the heat given off during milk cooling. The location of the cooler was planned to provide heat in the office and the dairy in winter and situated to ensure heat is quickly vented outside in the summer. LED lighting helps them save 75% of their energy costs compared to other forms of lighting.
Animal health and care is also a priority on the farm. The Laquerres built an open-front cold barn for replacement animals to provide more space for the animals and encourage better weight gain. The bulls and the dry cows are housed together in a cold barn on bedded pack where they move around freely. They have been implementing preventative medicine programs since they were established to ensure excellent animal health. Instances of disease are treated right away. Dairy rations are balanced by a nutritional scientist.
The Laquerres invest in training to implement sustainable management practices and waterway management with the objective of reducing their environmental footprint. They use HOLOS, a computer software program, to calculate and track greenhouse gas emissions. It guides them in sustainable management decisions like balancing cow rations, optimizing machinery use and increasing productivity per cow.
Sylvain and Noelline's leadership and desire to strive for management excellence means they are involved with numerous organizations and community groups to promote on farm sustainability. They worked with environmental organizations (Nature Québec, CAPSA) to evaluate the impacts of the changes they made to waterways throughout the Niagrette Watershed project as well as the Ministère du développement durable et des parcs and the Ministère des ressources naturelles to monitor water quality results. They took part in the Nature Québec pilot project "vers des fermes 0 carbone" (towards zero-carbon farming), and a book was published for farmers. They participated in two animal welfare projects with Laval University and two research initiatives on introducing riparian buffer strips with the same university. They partnered with Valacta in a study on time management and another one on animal comfort.
The Laquerres were a member of a group that won the provincial UPA Jean-Paul Raymond, the ROBVQ Misez eau and the Chamber of Commerce Valoris awards. In 2010, the farm won a Phénix environnement from the Ministère du développement durable et des parcs, and in 2012, the Coop Fédérée en environnement award from the Ordre nationale du mérite agricole du Québec issued at the Quebec National Assembly.