Sunholm Farms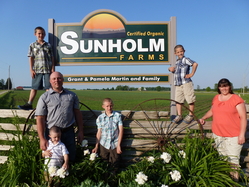 "As more and more consumers vote with their food dollar, the demand for farms to be environmentally responsible will grow. Many farms are doing similar things to what we do, and many are doing more. We believe everyone can do a better job."
The farm
Grant and Pamela Martin have a dairy farm with 80 cows, 275 hectares of land, and a direct-to-consumer organic pasture-raised meat, egg and dairy business in Huron County, Ontario. They have 4 young boys.
Both Grant and Pamela have a Bachelor of Science degree in agriculture and they have a passion for continuous education. They participate in many farm tours and have accumulated an extensive library onecological farming, and are active in the West Planning committee for Ecological Farmers of Ontario (EFO).
Sunholm Farms is certified organic and has met the standards of Local Food Plus since 2006. These standards include production measures relating to animal welfare, enhanced biodiversity on the farm, energy conservation and fair labour practices. The Organic Council of Ontario honoured them as winner of the Outstanding Dairy Producer award in January 2012.
Sustainability for fields and animals
Sunholm Farms puts a lot of stock in pasture – literally. They plan carefully and make good use of fences to restrict their cattle from the municipal ditch, woodlots and streams, but also to create a cattle lane way for rotational grazing. Cows go to a new pasture twice daily. Their careful planning of plant species ensures that cows can be pastured from early spring through to late fall. Charting pasture yields allows them to make improvements from year to year. Bald eagles and bobolinks have selected the farm as their home as well.
Like many farmers, Grant and Pamela keep a nutrient management plan that guides their cropping practices. They maintain a double row wind break and plant trees every year, which has virtually stopped wind erosion on their land. They consider timing to avoid compaction when tilling and use shallow chisel plowing. They actively scout their fields and keep a log book on yields. Solid manure is composted in the summer and all manure application is only to growing plants. Because it's composted, neighbours do not complain about smell. Their careful planning results in one of the best yielding silage crops in the region.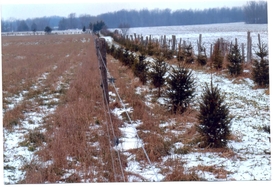 The bedded pack barn is constructed with energy efficiency in mind, with a design to provide a maximum of natural light and with a ceiling that insulates from the winter cold and the summer heat. On the equipment side, a heat recovery system on the plate cooler cools the milk and helps heat the water that is needed to keep equipment spotlessly clean. This system saves energy. Wash water is also reused to clean the milking parlour.
Sunholm Farms balances cow rations for lower protein, lower ammonia losses and lower GHG emissions. Careful management and the use of dairy herd improvement services mean the farm maintains excellent milk quality.
The Sunholm Farm is present on the web at http://www.sunholmfarms.com/.