Lakeside Dairy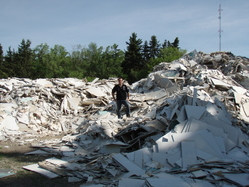 "Sustainability is successful on our farm because it is profitable. The practices with the largest impact do not require large capital investment and generate financial and labour savings that are immediate and provide opportunities in the future."
Jeff Nonay is a partner in a diversified farm with 5 other members of his family. They milk 170-180 Holstein cows with a voluntary milking system in the town of Legal, Alberta. They grow crops to feed the herd, and also use their 1000 hectares of land to grow canola, seed potatoes and cash crops. The farm employs 4 full-time employees to help keep everything running smoothly.
Lakeside Dairy is increasingly well-known for its advocacy and use of gypsum as a bedding and soil amendment. The farm has been featured in several articles and has been able to demonstrate the benefits of mixing clean (unused), ground drywall with wood shavings for cow bedding. The bedding is composted with manure and chicken litter from a neighbouring farm, additional drywall, and then used as a fertilizer for the fields.
The sulfate in the drywall decreases the pH of the manure, reducing ammonia and GHG by up to 90% or as much as 3000 tonnes of CO2-equivalent annually. When this mixture is spread on the land, it adds sulfate and calcium, retains nitrogen, all of which are nutrients plants need to grow. Moreover, this diverts over 800 tonnes of clean drywall scrap from the landfill annually, providing a local urban company with a business opportunity in drywall recycling.
Lakeside also incorporates a number of other good practices such as reduced tillage on fields, maintaining forested areas and windbreak fence lines, rotating crops and sampling soil of all fields every year. The result is increased organic matter in the soil and improved soil structure, leading to better soil moisture and higher nutrient availability for crops. 80% of the farm's fertilizer needs are met through their compost.
It's in the details…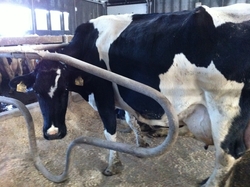 This farm uses professional services to plan, troubleshoot, and meet new and loftier goals: a dairy nutritionist improves the nutrition for maximum production and herd health, an agronomy consultant helps identify soil fertility improvements and where manure or compost is needed, and dairy herd improvement services and a software (DelPro) record animal movements, milk production statistics and other factors important to monitor animal health.
Dairy animal comfort is also important for the Nonays. Their modern barn is designed to maximize natural ventilation and lighting. They use high efficiency motors, efficient lighting, a heat recovery system on the plate cooler, which preheats all the water going into the hot water heater, while cooling the milk and saving energy.
They have incorporated what is essentially a waste product (heated or green canola) into the ration – increasing digestibility and introducing a healthy oil as an energy source.
Finally, Lakeside Dairy hosts University of Alberta dairy science students who visit their farm every year to discuss nutrition, animal health and strategies that reduces the footprint of dairy farming on the environment. The farm has a website www.lakesidedairy.com and is also featured on this video.