Ferme M. Grenier et fils Inc.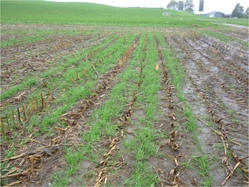 "Every time we have a project, we look at how we can improve what we already have on the farm, either by using it better or differently or by modifying it. We do a lot of trials."
Anita Grenier and Rock Simard own Ferme M. Grenier et fils and farm with their two sons Benoit and Alain. They care for the environment and sustainable development as an investment in the future. Located in the Estrie region, the farm has 150 hectares and a herd of 150 Holstein cows, of which they milk about 90.
Anita and Rock are innovators and have been willing to try new practices and document their usefulness, in partnership with the Estrie agri-environmental club for 12 years. They also collaborate with the MAPAQ and the IRDA on experiences. Last year, Anita spoke to a conference on sustainable agriculture practices, and farmers come to their farm for field days.
For Anita and Rock, the outcome for sustainable development is bigger than the sum of small actions they incorporate in their daily life, both on the environmental and financial aspects. Crop rotation of corn, soy and hay for feeding the herd is key. They roast soy to facilitate digestion by cows, which helps reduce greenhouse gases.
They aim to get the most out of the equipment they have by modifying it or using it differently, rather than buying new equipment. This is why they modified the cropper to produce wider rows, which dry faster and prevent a trip through the field for turning, reducing labour and the overall amount of diesel used.
Many fields are hilly, and Anita and Rock have implemented several practices that reduce erosion of the soil: grassed waterways and other practices to reduce the speed of water runoff, reduced tillage, adding cover crops to stabilize the soil. All these practices and other speak of the farmers' care and passion for soil's health. Manure use is also maximized, with synthetic fertilizer being used only as a supplement, when necessary. As a result, soil quality and moisture have improved considerable over the years. The steepest slopes are maintained as permanent pasture and they prevent the animals from accessing the waterways.
An old two-storey barn was renovated to comfortably house heifers on one level, and store machinery on the other. This decision is economic and ecological, as it reuses resources and avoids sending debris to a landfill site. In the milk house, this farm adopted the popular plate cooler technology, which cools the milk faster while reducing energy expenses.
Most of the fields on Anita and Rock's farm are surrounded by wooded areas that foster biodiversity. One advantage they found was they did not have to spray insecticides when they experienced an aphid invasion in their fields, as the population of ladybugs quickly increased to eat the aphids. Brook trout still live in the streams that run through the lands, and various wild animals live near. "We want to work with nature, understand it well and give it a helping-hand when necessary," concludes Anita.