Charles Hill and Son Farm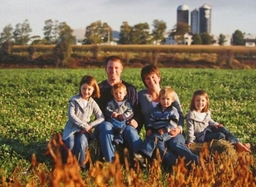 "Increased productivity from employees and cows, better working conditions, electrical updates that save costs, newer technology, and more efficient equipment have improved our financial balance. Everyone wins, and the environment too!"
Allan Macmillan and Tara Hill-Macmillan are the fifth-generation working on this farm, milking 150 dairy cows and growing crops on 264 hectares of rich upland and marshland soil; near Truro, Nova Scotia. Allan and Tara are big proponents of opening their doors and showing the public what dairy farming is all about.
Every year, the farm, which is close to the city, major highways and waterways, opens its doors to local preschools, elementary schools, and various classes from the Nova Scotia Agricultural College. Allan and Tara also participated in the latest provincial Open Farm Day program and Dairy Focus Tour. They welcome hundreds of people to their farm every year.
They love showing their farm: "It is beneficial to practice and promote sustainability to the general public. It not only promotes a positive image for the industry, it also, allows each individual farm the chance to constantly monitor their business decisions and improve upon them."
On the farm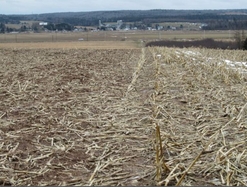 The farm employs four full time and two part time employees, growing 95% of what is required to feed animals, purchasing only calf grain and ration supplements.
Allan and Tara are very conscious about conserving water quality and reducing its usage. They use plate coolers to reduce the energy needed to cool the milk. This water then follows the gravity-fed system that provides water for cows to drink. The new water-conserving bowls minimize waste and ensure cows get the freshest water possible.
Another way they maximize water use is by draining the first-rinse wash water into the manure pit for field spreading; the rest of the wash water and the plate cooler overflow are collected in a cistern and used to wash down the parlour floors after each milking. A variable speed milk pump and a heat reclaimer on the plate cooler also help shave electricity costs, as does energy-efficient lighting.
Outside, Allan and Tara maintain buffer zones for waterways, ditches, public water sources to avoid run-offs. The farm has taken a number of steps to improve soil health. In addition to a nutrient management plan that is updated annually, the farm participates in an Agricultural Wood Ash program. This program recuperates ash waste from local pulp and paper mills that would otherwise be sent to landfill, and uses it as a fertilizer; this increases pH level and provides nutrients to the land. More than half of their fields have seen an increase in pH levels in the last 5 years. Reduced acidity in the soil also benefits nearby water resources and improves nitrogen use efficiency, which ultimately improves crop production.
Like a lot of other farms, Tara and Allan have a nutrient plan which is updated yearly to meet crop production and soil health goals; a pest management program is in place to identify weeds and pests. This farm has also adopted a number of other well-recognized conservation practices, such as no-till for corn and soybeans, and minimum tillage for alfalfa. These methods reduce soil compaction and increase organic matter in the soil. Grassed waterways and rotary flail ditching (which cleans the bottom of drainage ditches while leaving vegetation on the sides) have contributed to less soil loss – this is good for soil fertility, but also means less soil and nutrients making their way to ditches and streams. Since they began tracking soil health parameters, a crop consultant reported they have improved their soil nutrient levels by 54%.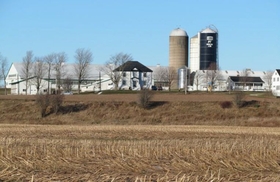 Charles Hill and Son have made improvements that have increased milk production by more than 150,000 litres per year between 2001 and 2011. They have met the quality excellence award of Dairy Farmers of Nova Scotia for 8 of the last 10 years. Their focus on environmental stewardship, animal well-being and farm safety for employees has resulted in financial gains. Increased productivity, newer more efficient equipment, decreased energy and fuel consumption, as well as employee satisfaction, are all part of this gain.
Because innovators like Tara and Allan never stop improving, they are currently considering solar panels and improving their liquid manure spreader technology to increase soil nutrients.