Canadian Quality Milk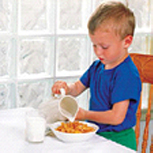 Today's consumers of dairy products want to know that the food they eat is safe and wholesome. Dairy Farmers of Canada developed the Canadian Quality Milk Program (CQM), an on-farm food safety program to help producers prevent and reduce food safety hazards and risks on their farms. As such, it will serve to assure consumers that Canadian milk and meat are produced in a safe manner.
The CQM program uses the HACCP approach. HACCP (Hazard Analysis Critical Control Points) is a science-based, preventative approach to food safety that focuses on preventing and minimizing the risk of food safety hazards.
CURRENT VERSION!
The CQM program has revised the program materials.
Please click here to download the new Reference Manual and Workbook (September 2015).
Please also review the Notice of Changes which outline the new requirements and improvements:
Dairy producers monitor critical areas and implement best management practices to:
effectively cool and store milk,
closely monitor the use of medicines and chemicals to prevent residues in milk,
sanitize their equipment and make sure their wash water is clean, and
safely transport their animals.
Monitoring risks includes an emphasis on communication and effective record keeping on the farm. Dairy producers are among 20 agricultural sectors developing or implementing on-farm food safety programs in partnership with government.
DFC is committed to implementing the national CQM program to promote the consistent application of management practices to continuously improve food safety management on dairy farms