2000 Edition Champions
2000 Champions (From left to right)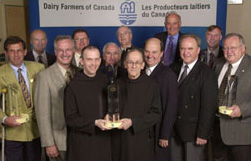 John Schalwick (Sylvan Star Cheese)
Bruce Kingston (Ivanhoe Cheese)
Richard Doyle (Director General, Dairy Farmers of Canada)
Denis Cayer (Fromagerie Cayer)
Frère Duguay (Abbaye St-Benoît)
Donat Roy (Saputo Cheese)
Georges Côté (Fromage Côté)
Père Bolduc (Abbaye St-Benoît)
Pierre Robert (Agropur)
Agostino Frangella (National Cheese)
Jacques Goulet (Jury President)
Dwight Johnson (Village Cheese)
Réjean Galipeau (Parmalat / Balderson Cheese)
On May 8th, 2000, the selection of cheese finalists for the second edition of the Canadian Cheese Grand Prix was announced. Gathered on April 29th and 30th, 2000, members of the jury selected 49 cheeses entered by 20 manufacturers. On the whole, 28 manufacturers from coast to coast entered 141 cheeses.
The finals for this edition took place on May 25th, 2000 at the Institut de Tourisme et d'Hôtellerie du Québec, in Montreal. The nervously expected moment came when "Category Champions", in 16 categories and the "Grand Champion" were finally revealed.
Bleu Bénédictin, produced at the Saint-Benoît Abbey, in Saint-Benoît-du-Lac, Quebec, was crowned "Grand Champion" of all categories!
A pure enjoyment, Bleu Bénédictin is a semi-soft blue cheese, made from whole milk, with a natural rind, surface-ripened and also interior-ripened using the penicillium roqueforti bacteria. The body is creamy, especially in the center of the cheese and reveals an aroma rich in mushroom and peach kernels. Its intense taste and tender texture evoke cream, mushrooms, nuts, almonds and kirsch. The Bleu Bénédictin benefits from a longer ripening period than the Ermite also produced at the Saint-Benoît abbey.
Cheese "Champions":
Among 49 finalist cheeses, 16 were appointed "Category Champions", including:
9 cheeses from Quebec,
4 cheeses from Ontario,
2 cheeses from British Columbia,
1 cheese from Alberta.
Because they all deserve honors and congratulations, here they are, by category:
Fresh cheese: Délicrème nature, Agropur (QC)
Soft cheese: Brie Double cream, Fromagerie Cayer (QC)
Semi-soft cheese: Monterey, Armstrong Cheese (BC)
Washed rind cheese: Cantonnier, Fromage Côté (QC)
Firm cheese: Gouda, Sylvan Star Cheese (AB)
Firm cheese Swiss-type: Kingsberg, Fromage Côté (QC)
Mozzarella: Mozzarella, Saputo cheese (QC)
Firm cheese pasta filata: Provolone Sette Fette, La Cie de National Cheese (ON)
Blue cheese: Bleu Bénédictin, Abbaye Saint-Benoît (QC)
Flavoured cheese non particulate flavouring: Gouda fumé Anco, Agropur (QC)
Flavoured cheese particulate solids and flavouring: Brie fine herbs, Fromagerie Cayer (QC)
Mild Cheddar: Mild Cheddar, Village Cheese (BC)
Medium Cheddar: Mild Cheddar, Parmalat/Balderson Cheese (ON)
Old, Extra-Old Cheddar: Sharp Cheddar, Balderson Heritage 6 years old, Parmalat/Balderson Cheese (ON)
Cold-Pack cheese: Sharpe Forte, Ivanhoe Cheese (ON)
Retail Packaging Design: Sir Laurier d'Arthabaska, Fromage Côté (QC)
Cheese Finalists for the 2000 Edition:
For this second edition of the Canadian Cheese Grand Prix, 49 cheeses from 20 manufacturers were selected as finalists, among 141 cheeses entered by 28 manufacturers throughout the country.
Here they are, by category:
Fresh cheese:
Délicrème nature, Agropur (QC)
Le Baron, Fromagerie Cayer (QC)
Ricotta, Silani Sweet Cheese (ON)
Soft cheese:
Brie Double Cream, Fromagerie Cayer (QC)
Brie Double Cream Anco, Agropur (QC)
Brie, Quality Cheese (ON)
Semi-soft cheese:
Monterey Jack, Armstrong Cheese (BC)
Havarti Danes, Agropur (QC)
Havarti, Fromagerie Cayer (QC)
Washed rind cheese:
Cantonnier, Fromage Côté (QC)
Raclette, Fromage Côté (QC)
Le Migneron, Maison d'Affinage Maurice Dufour (QC)
Firm cheese:
Gouda, Sylvan Star Cheese (AB)
Gouda Anco, Agropur (QC)
Gouda, Thunder Oak Farm (ON)
Firm cheese - Swiss-type:
Kingberg, Fromage Côté (QC)
Suisse, Fromagerie Lemaire (QC)
Chaliberg, Laiterie Chalifoux (QC)
Mozzarella:
Mozzarella, Saputo Cheese (QC)
Mozzarella, International Cheese (ON)
Mozzarella, Armstrong Cheese (BC)
Firm cheese - pasta filata:
Provolone Sette Fette, National Cheese (ON)
Fior di Latte, Quality Cheese (ON)
Provolone, International Cheese (ON)
Blue cheese:
Bénédictin, Abbaye Saint-Benoît (QC)
Bleubry, Fromagerie Cayer (QC)
Borgonzola, National Cheese (ON)
Flavoured cheese - non particulate flavouring:
Smoked Gouda, Agropur (QC)
Garlic Cheddar, Village Cheese (BC)
Smoked Salmon Délicrème, Agropur (QC)
Flavoured cheese - particulate solids and flavouring:
Fine Herbs Brie, Fromagerie Cayer (QC)
Garden Herb Gouda, Thunder Oak Farm (ON)
Monterey Jack aux piments jalapeno, Ivanhoe Cheese (ON)
Mild Cheddar:
Mild Cheddar, Village Cheese (BC)
Mild Cheddar, Armstrong Cheese (BC)
Mild Cheddar, Armstrong Cheese (BC)
Medium Cheddar:
Medium Cheddar, Parmalat/Balderson Cheese (ON)
Medium Cheddar, Armstrong Cheese (BC)
Medium Cheddar, Ivanhoe Cheese (ON)
Old, Extra-Old Cheddar:
Old Cheddar 6 years Heritage, Parmalat/Balderson Cheese (ON)
Old Cheddaryears Heritage, Parmalat/Balderson (ON)
Cheddar vieux, Fromagerie Albert Perron (QC)
Cold-Pack cheese:
Old Sharpe, Ivanhoe Cheese (ON)
IQF, Saputo Cheese (QC)
Special blend, Parmalat/Balderson (ON)
Retail Packaging Design:
• Sir Laurier d'Arthabaska, Fromage Côté (QC)
Camembert St-Valentin, Agropur (QC)
Brie Pesto-Tomate et Damafro range of sliced cheeses (QC)