Why do dairy farmers participate in research?
December 13th, 2016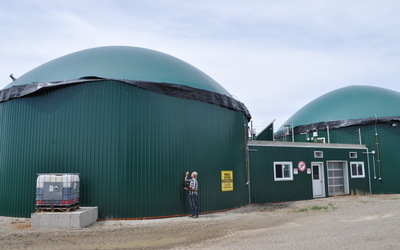 Our farm is close to the University of Guelph. My father is a Guelph alumni having graduated in 1970, and my mother's father, George Jones, taught in the Crop Science department for many years. He was renowned for his thought-provoking lectures, his outreach directly to farmers, and the development of corn and soybean varieties as a part of a cropping system. With this history in mind, and a desire to keep learning more and trying new things, our family at Clovermead Farms has always been prone to being early adopters of technology.
Over the years, we've had the opportunity to be part of many research projects, from energy studies to calf health, water usage and soil erosion. Most recently, we hosted the engineering department from the U of G, who have been conducting a multi-year project to monitor greenhouse gas emissions from our farm, and particularly from our manure management. The project began before our anaerobic digester was built – measuring emissions from our liquid manure storage – and continued to collect data after it was operational. This gave researchers an idea about how much GHG was being sequestered through digestion.
In addition to providing a source of revenue through the production of electricity, and savings through the production of heat and an improved fertilization value of the digested manure, the digester reduces the amount of methane released during manure storage. The researchers were able to measure the methane produced from our liquid manure storage and compare it to the emissions from the digester, and show how much is reduced due to the change in practice.
We enjoy being a part of research projects on our farm. We meet a lot of interesting people, learn fascinating things, like what it would take to make our farm carbon neutral, and feel like we are able to help our industry by providing a commercial site for research data that will be more realistic than in the lab setting. The results will help not only us but all Canadian dairy farmers make better decisions managing our farms, animals, land and the environment.

Contribute to
Farmers' Voice
Have something to say about dairy farming in Canada? Why not write a post on Farmers' Voice?
Contact us