What has really happened in Australia since deregulation?
April 9th, 2015
According to Mr. Noel Campbell, chairman of the Australian Dairy Industry Council and president of Australian Dairy Farmers, deregulation of Australia's dairy industry in 2001 helped the country double its milk production. So he has told Canadian media, including the Globe and Mail.
A quick look at Australia's historical milk production statistics is sufficient to suggest the above statement is extremely misleading.
In fact, milk production in Australia increased significantly before the country deregulated its market. From the mid-1980s and through the 1990s, annual production increases were the norm. The market was deregulated in 2001. The highest peaks of production were in 2000, 2001 and 2002.
Since then, Australia's milk production dropped off and has, at best, stagnated. Their dairy exports have dropped too. Deregulation evangelists promise great things in dairy exports from a deregulated market, but the Australian experience has been anything but. Between 2002 and 2011, Australian dairy exports dropped from 6.1 million tonnes to 2.9 million tonnes.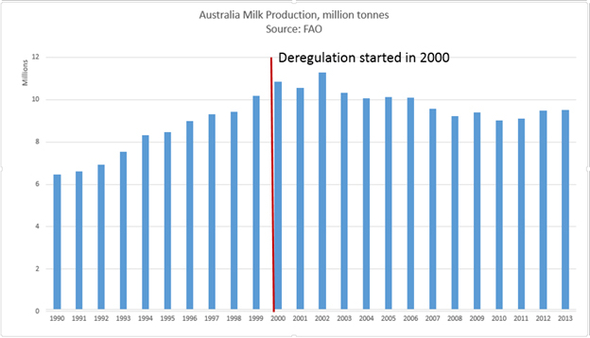 If the Australian dairy industry claims to be globally competitive, why hasn't it grown in the past 13 years (post-deregulation)? Their exports have dropped by more than half as well. One could observe that more market access does not automatically lead to growth.
In Canada, our climate conditions are a stark contrast to those of Australia, where their production can be more largely pasture based, without the unique long winter conditions we have here. These conditions impact the cost of production – of feeding animals in particular.
New Zealand has the claim to the lowest dairy production costs in the world. And this bears more weight than regulation or deregulation for having helped that country grow its dairy production from 13.8 million tonnes in 2002 to 18.8 million tonnes in 2013.
The growing conditions are not the same in Oceania and Canada. Market regulation in Canada is a tool that help milk producers and processors sustain a profitable and stable dairy industry — without depending on subsidies from the government. It is a system that works for our farmers, it works for our processors, it works for taxpayers and it works for consumers, who are assured of quality products at reasonable prices, which compare well with other countries'.
Dairy farming is a self-sufficient agricultural sector that gives farmers income security and the confidence to invest in their farms and their communities. As one of the top-two agricultural sector in seven Canadian provinces, dairy farming is a major driver of the local, provincial and national economies.
Deregulating the Canadian dairy market would change all of that. It would destabilize domestic agriculture and pose a serious risk to the family farm. Like so many other Canadians, we cherish the farm where we see members of a family make a living working together on the family farm.
For us, that risk alone is too great to even consider deregulation.

Contribute to
Farmers' Voice
Have something to say about dairy farming in Canada? Why not write a post on Farmers' Voice?
Contact us