Dairy Sector Overview – What you need to know
February 15th, 2017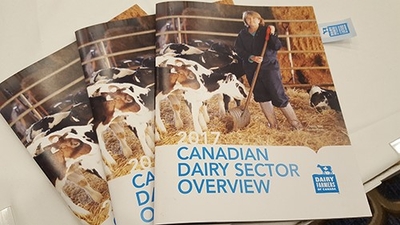 Now in its second edition, Dairy Farmers of Canada presents the new Dairy Sector Overview booklet. The first edition, called the Dairy Sector Issues booklet, was created last year as a tool for MPs and stakeholders to get to know the ins and outs of our industry – and the issues we are working on. The feedback we got from the first version was very positive, so we decided to update and revamp it for 2017.
The dairy sector is complex with many moving parts, and can often be hard to figure out for non-farmers. This booklet is intended to give its readers not only a basic understanding of dairy and supply management, but access to simple explanations on the many issues impacting sector that they can refer to throughout the year. For politicians, the booklet is a great way to ensure that Canadian dairy and our sector's priorities stay top of mind, and acts as a go-to resource whenever an issue comes up. DFC staff often also refer to the booklet throughout the year as it serves as a helpful reminder of the issues of concern for our members, while providing a significant amount of easily accessible details on those issues.
The booklet includes an overview of DFC and supply management, and covers a variety of other topics ranging from dairy's economic impact, international trade, to nutrition and labelling. All of the issues covered in the booklet are key areas in 2017 and beyond, and will resonate with the government moving forward. DFC staff from various departments have contributed content to the booklet in their area of expertise.
Of particular note is the extensive Nutrition section of the book – focusing on a variety of important topics. In the year to come, DFC will be discussing many important nutrition issues with government including: the Food Guide, food labelling, sodium, sugar, trans fats, saturated fats and marketing to children. DFC's team of 31 registered dietitians across the country have an exciting year ahead of them!
Another important section of the Dairy Sector Overview is the FAQs, which can be found in the Appendix. Based on questions often asked of staff and farmers, we provide answers in an understandable language, covering a variety of topics including supply management, retail prices, growth hormones and GMOs. These FAQs are a great starting resource for anyone looking to answer questions on these particular topics.
Check out the booklet on our website

Contribute to
Farmers' Voice
Have something to say about dairy farming in Canada? Why not write a post on Farmers' Voice?
Contact us