My Mom: Raising Cows and Kids
May 14th, 2017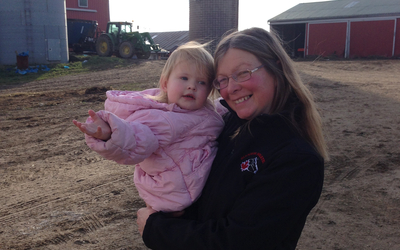 I was often told also that I was not only lucky to be raised on a dairy farm, but to have that farm be owned and operated by my mom. I never truly appreciated what this meant until recently as I have become more involved in the agriculture industry as a woman. My mom never once commented about the fact of being a woman in a male dominated profession. By doing this she taught me a woman can do what she puts her mind to and to not let stereotypes or opinions get in the way, without ever having to say anything.
Being a successful woman in the dairy industry is what my mom, Patti Alsop, proud owner of Glenwin Holsteins has accomplished. When she took the farm over from her grandfather, she knew she wanted to continue growing and expanding the herd. Her philosophy of "breed for looks, feed for milk" led to her managing one of the top production herds in our county for over 10 years, as well as accomplishing her dream of achieving the Master Breeder Shield in 2015, one of the highest honours in the Holstein breed that recognizes farmers' dedication developing their cows to be the very best they can be through genetics and lifelong care.
I won't forget when she told me we had won the Shield. I was riding a busy city bus on way to morning classes at the University of Guelph when she sent me a message. I knew this was a goal she had worked very long and hard for. I pulled a bus faux-pas and gave her a call so I could celebrate and congratulate her, in addition to informing anyone around me that my mom had won the award.
Seeing my mom win this award was amazing and inspiring because not only had she managed it while raising five children, she did it while instilling many important life lessons. Just a few of these lessons include:
1. There is nothing better for the soul than wide open spaces
2. The smell of fresh cut hay trumps all fragrances in the store
3. Hard work and determination will always help you reach your goals
4. Be thankful for mistakes and lessons learned along the way
5. If you believe you can, then you can
6. Happy healthy calves will help brighten your day more than anything money can buy
I would not have the passion for the dairy industry or be where I am today if not for her. This Mother's Day, I hope you take some time to not only show your appreciation but also to let your mother know how much you care. I hope you also reflect on their strength and influence, in addition to the lessons and guidance that they have provided to you.
Happy Mother's Day to all!

Contribute to
Farmers' Voice
Have something to say about dairy farming in Canada? Why not write a post on Farmers' Voice?
Contact us