MPs Tour a Canadian Dairy Farm
June 12th, 2017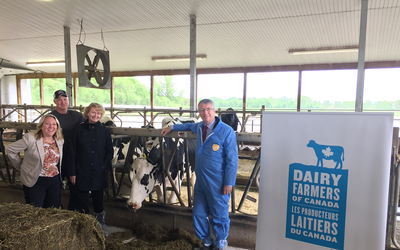 Monday, June 5, Todd Styles of Oakstone Farm in Kinburn, Ontario, opened his barn doors to his federal Member of Parliament, Karen McCrimmon (Kanata-Carleton), along with fellow Liberal MPs Lloyd Longfield (Guelph), and newly-elected MP Mona Fortier (Ottawa-Vanier). Additional attendees included staff from MP McCrimmon and MP Wayne Easter's office, and employees of Dairy Farmers of Canada (DFC).
The MPs were treated to a guided tour of the free-stall dairy farm featuring a milking robot by Mr. Styles, who was well-practiced, having opened his doors to school tours in the past. Attendees were given a tour of the barns, an up-close look at a milking robot in action, and some even took the opportunity to milk a cow by hand! Many of these #cowmoments were captured in picture and shared on Twitter.
DFC believes it is critically important for elected officials to meet dairy farmers, and see firsthand the dedication and care that goes into operating a modern dairy farm. It is also a great opportunity for farmers like Mr. Styles to express to MPs how important supply management, and the continued support of MPs, is to them. At the end of the day, all participating MPs agreed that the farm tour was beneficial, and encouraged DFC to organize future tours for their colleagues.
This was the second tour DFC has organized for MPs since 2016, the last one visiting Sonibrand Farms in the riding of Glengarry-Prescott-Russell. DFC plans to host future tours around the Ottawa/Gatineau area for MPs from all parties.

Contribute to
Farmers' Voice
Have something to say about dairy farming in Canada? Why not write a post on Farmers' Voice?
Contact us