In this issue:
The Canadian dairy industry has a long history of sustainable development. In this edition of Dairy Insights we look ahead to the "Building a Sustainable Dairy Future" symposium that will feature some of the success stories of Canadian dairy and where we need to go from here.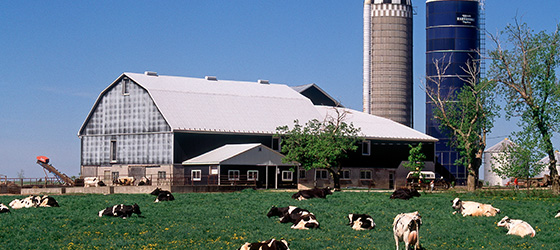 Together, let us build the sustainability of our dairy industry
This November 7th and 8th, stakeholders from across the supply chain of the food industry are invited to meet in Ottawa to discuss dairy sustainability and the role everyone has to play in ensuring the dairy industry is growing sustainability, today and tomorrow and how continuous improvement is key to this. Farmers, processors and industry experts will speak to the progress that the Canadian dairy sector has made in the area of sustainable development, and how we build on our past successes to keep up the momentum as we move forward.

On the first day, registered guests will get a glimpse of dairy farm life as they tour two modern dairy farms. We are honoured to have Canadian Beef join Dairy Farmers of Canada in sponsoring the evening's wine and cheese reception and contribute delicious Canadian beef.

The agenda for day two has an impressive lineup of speakers from across the supply chain - from farm service suppliers to those at the retail level. Our speakers include Bob Chant from Loblaw Companies, as well as Agropur CEO Robert Coallier, who will discuss how sustainability has become a necessity in their business and what they have done to as part of their efforts towards continuous improvement.. Registered dietician Nathalie Savoie, of Dairy Farmers of Canada, will discuss what constitutes a sustainable and nutritious diet today, and how dairy products are very important. Dave Taylor, a dairy producer from British Columbia, will present on the sustainable practices his farm employs, and Brian Van Doormal of the Canadian Dairy Network will highlight the accomplishments that brought dairy farmers in Canada to the level of sustainability we take pride in today. Finally, Yves Leduc, Director of Policy and International Trade at DFC, will present how DFC participates to several sustainability initiatives with partners in the agri-food industry, along with representatives of these initiatives. 

"Building a Sustainable Dairy Future" is a must-attend event for food industry stakeholders who are interested in participating in the continuous improvement process for better sustainability in our dairy industry. More information about the symposium and registration can be found here.
Upcoming events
CFA Lobby Day and Harvest Reception
October 23-25, 2017 – Ottawa, Ontario

Building a Sustainable Dairy Future
November 7-8, 2017 – Ottawa, Ontario
DAIRY SUSTAINABILITY NEWS
OTHER Sustainability News
You are receiving this newsletter from Dairy Farmers of Canada because you have signed up for it.
Unsubscribe | privacy policy.