In this issue:
Did you know that what happens in the dairy industry can have a real impact on your community? In this first edition of Dairy Insights we reflect on a few considerations about sustainable milk production in Canada and the role milk products play in nutrition and health.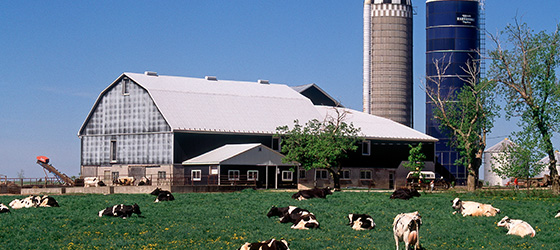 Dairy – a natural part of a sustainable and nutritious diet
Consumers today are navigating an increasingly complex world of food. Besides considering nutrition information, they are asked to consider new attributes for each product. It is still very pertinent to consider the nutritious value of food, but other angles about its production have emerged – is it safe, was it produced in a way that respects workers, animals and the environment? Canadians and others around the world are facing conflicting information about products. For this article, we took some time to stop and reflect on a few important considerations about sustainable milk production in Canada and the role milk products play in nutrition and health.

Sustainability
It is well known that sustainability has three equally important components: economic, social and environmental. However, some groups single out one component in advocating for a cause they care about. This is how dairy products are sometimes criticised for greenhouse gas emissions naturally emitted when ruminants digest, without consideration for the socio-economic contributions of dairy such as job creation and nutritional importance. 

Milk Production in Canada
On the environment side, Canadian milk production accounts for under 2% of the total carbon footprint, less than 2% of Canada's agricultural land use, and less than 1% of the total water consumption.1 Canadian dairy farmers use modern and efficient practices, which have led to a 25% decrease of GHG emissions, on a per-litre basis between 1990 and 20132, and the efficiency is ongoing.

Milk Products in Nutrition and Health
Milk products provide up to 16 essential nutrients, including several bone-building nutrients such as calcium, vitamin D, phosphorus, magnesium, and protein. The sum of the scientific evidence to date indicates that consuming 2-4 servings of milk and other milk products is beneficial to bones and healthy weight and reduces the risk of important conditions including cardiovascular disease, hypertension, type 2 diabetes and colorectal cancer.3

Reducing one's environmental impact
Reduce waste – The carbon footprint of wasted food is 3.3 Gt of CO2 equivalent. If compared to emissions from countries, the FAO estimates that wasted food would be the 3rd highest global emitter of emissions, after the US and China.4

Eat a nutritious, balanced diet – Nutrient-poor foods have a significant negative impact on the environment. When a person replaces empty calories with nutritious foods, including dairy products, her diet is better for the environment than continuing to consume nutrient-poor food.56


---
1Environmental and Socioeconomic Life Cycle Assessment of Canadian Milk, Quantis, November 2012.
2National Inventory Report 1990-2013: Greenhouse Gas Sources and Sinks in Canada. Environment Canada, 2013
3https://www.dairynutrition.ca/
4Food Wastage Footprint: Impacts on natural resources, Summary Report.  FAO 2013
5Hadjikakou, M. 2017. Trimming the excess: environmental impacts of discretionary food consumption in Australia. Ecological Economics, 131: 119-128.
6Hendrie, G.A., et al. 2014. Greenhouse Gas Emissions and the Australian Diet – Comparing Dietary Recommendations with Average Intakes. Nutrients 2014, 6: 289-303.
Upcoming events
Canadian Dairy Xpo
April 5-6, 2017 – Stratford, Ontario

DFC Dairy Sustainability Symposium
November 7-8, 2017 – Ottawa, Ontario
DAIRY SUSTAINABILITY NEWS
OTHER Sustainability News
You are receiving this newsletter from Dairy Farmers of Canada because you have signed up for it.
Unsubscribe | privacy policy.