Recharge with milk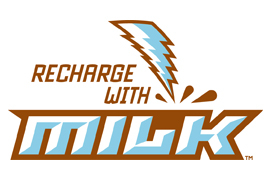 DFC's Recharge with Milk (RWM) campaign in Ontario and the Maritimes continues in 2013. The campaign continues to target physically active men and position chocolate milk as an excellent post-exercise recovery beverage.
The RWM television commercials continue to run from March through May and once again from September to November; the time of year our target is consuming the most television media. The commercials show a marathon runner and a cyclist as they heroically cross the finish line of a race, as well as the actions leading up to that moment. The commercials clearly show that drinking chocolate milk today can help make tomorrow's workout (or race) better. In addition to the commercials, which air on targeted sport focused stations, print ads depicting the runner, cyclist and a skipper continue to be incorporated into sponsor newsletters, e-blasts and other communications.
Partnerships and content integration with television stations have proved effective in the past, therefore, these efforts continue into 2013. Working with theScore, Recharge with Milk produced 5 customized vignettes that each showcases an athlete, aligning with our 2013 theme of celebrating athletic accomplishments. Each 3-4 minute feature entitled "the Recharge with Milk Accomplishment Series" will dive into an athlete's life with a focus on their personal story of success and the ability to overcome adversity. Each athlete is strong believer and avid user of chocolate milk, therefore, how chocolate milk works into their training regime and how it has helped them accomplish their goals is central in each story.
Continuing to build upon the success of the 2011/2012 Recharge with Milk online campaign, sites such as Running Room, Map My Run & Pointstreak remain on the plan as their many integration opportunities and audience allow us to speak directly with the Recharge with Milk target. We've also included some new placements on sites such as Map My Fitness (sister site of Map my Run), Facebook, and LinkedIn where we can focus messaging to athletes, fitness trainers and coaches. All of these sites offer a range of visibility opportunities including banner ads, e-blasts, newsletters, as well as other content integration opportunities. Online activities will run throughout the year, with peaks in the spring and fall.
Magazine plays an active role in supporting the brand and addresses awareness, education and engagement, therefore, RwM will be featured in all six 2013 issues of iRun Magazine through editorial integration. iRun delivers impactful, in-depth messaging to the consumers within our RwM target and offers a variety of value-add features online through e-blasts, newsletters and social media call-outs along with the sponsorship of the Personal best page. Look out for Recharge with Milk in iRun magazine all year long!
Late 2012 saw the launch of the Recharge with Milk Facebook page, ensuring that up to date photos, videos and articles were communicated to our target group in real time. A media buy on Facebook allowed us to deliver ads to targeted users encouraging them to "Like" our page. The page has over 2000 fans that are regularly reminded of the benefits of chocolate milk as a post-workout recovery beverage, given suggestions to links to interesting articles and offered words of encouragement by our Community Manager. Like the page at www.facebook.com/rechargewithmilk
Finally, you may have noticed that Rechargewithmilk.ca recently received a facelift! The sites main focus of reinforcing the credibility of Chocolate milk as a post workout recovery beverage remains the same, but content is now updated more regularly, ensuring that rechargewithmilk.ca is a destination that users can return to for articles, links and videos. The calendar of sponsorship events, announcements and links to partners' sites will remain, but with more prominence on the site. Visit us today: www.rechargewithmilk.ca