100% Canadian Milk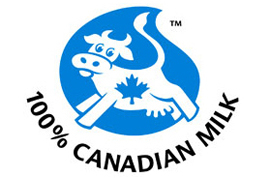 This year it's all about the 100 Good Reasons to look for the 100% Canadian MilkTM symbol on your dairy products.
On August 12th, DFC launched the last of the 100 Good Reasons: Reason #1: Good Things Come From 100% Canadian Milk which consists of 4 short films about various stakeholders of Canadian milk across the country: 1 cheesemaker, 1 buttermaker, 1 ice cream maker and, of course, a young farmer from BC. For a period of about four weeks, users were encouraged to watch and rate the films for a chance to win a Home Cinema while the videos are being promoted heavily online from August to December.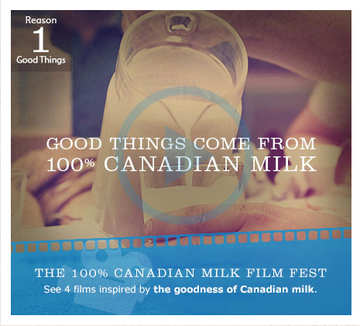 Three ads were published in community newspapers across the country while billboards promoting the slogan "Good Things Come from 100% Canadian milk" also commenced on August 12th. Similar billboard ads took over Union Station in Toronto and at Granville Station in Vancouver in August and September.
On television, the campaign included two closed-captioning spots, as well as a four-week partnership with CBC which started on September 16th. One of the network's television personalities is seen interacting with milk and promoting the 100% Canadian Milk message.
Finally, From September to October, an in-store promotion invites consumers to enter the Canadian Getaway contest by purchasing a product bearing the 100% Canadian Milk symbol. To participate, consumers must simply enter the UPC code of their purchase on 100goodreasons.ca.